Thursday April 11 @6:00 pm - 8:30 pm
How to Engage on Trade Negotiations
Experience of the public and private sectors
Thursday, April 11
6:00-8:30 PM
The Association of Women in International Trade (WIIT)
invites you to a Leadership Development talk on:
 Trade negotiations are an "all hands on deck" type of activity.  While governments take the lead, companies, diplomats, and civil society all play a role in steering positive outcomes.  How does that work, and what are some of the best practices for engagement?
Featuring:
Tami Overby, Senior Director, McLarty & Associates
Jennifer Riccardi, Senior Trade Advisor, EU Delegation
Lisa Schroeder, Global Director of Trade & Investment Policy for The Dow Chemical Company; President, Women in International Trade
Renata Vargas Amaral, Founder of Women Inside Trade and Director of International Trade at BMJ & Associates
ISH Great Hall
6:00pm Registration/Arrival
6:30-7:30pm Panel
Reception with WIIT members to follow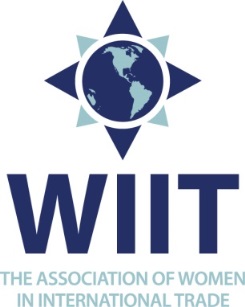 The Association of Women in International Trade (WIIT), based in Washington, DC, works to promote the professional development of women in international trade and business and to raise public awareness of the importance of international trade to economic development. Learn more at https://wiit.org/.

*just to confirm – both women and men are welcome and encouraged to join!!
RSVP for This Event
You cannot sign up for this meal at this time. Meal sign ups are possible one week before the meal up to 4 p.m. the day of the meal.
Location
Great Hall-ISH
1825 R Street, NW
Washington DC

Need more information about this event?
Call: 202-232-4007 ext 213