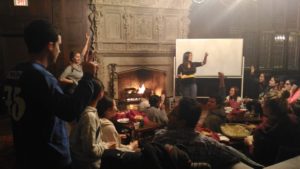 Workshops, Seminars, Concerts and Lectures
Ella Burling Hall offers a  unique setting for a variety of events. The Hall provides an intimate space for your colleagues to hold discussions and can be arranged to meet your technology needs for such occasions.  Ella Burling Hall is also an exceptional location for concerts as it allows for a close connection between the performers and their audience. The beauty of the Hall will serve to complement any music well.
Weddings
The memories associated with a beautiful wedding are carried for many years. Ella Burling Hall provides a gracious, warm and comfortable setting for any wedding motif. Guests can sit or stand around the couple during the ceremony and then mingle with guests during the reception. Ella Burling Hall and the Garden are all available for your ceremony and reception. There are cozy corners to sit and visit and enough space to dance or just relax with your friends and family. Combinations of seating can be arranged without loosing the charm and ambiance of the room.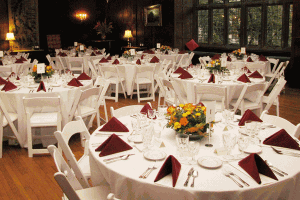 Holiday Parties
Holidays are opportunities to celebrate wonderful traditions and there is no more beautiful place for doing that than Ella Burling Hall. Immediately after Thanksgiving the Hall is decorated for the Holidays with beautiful swags and lights, the chandelier is hung with festive ribbons and the tree sparkles with lights. The Hall can reflect any holiday or special event with a few flowers and your personal style.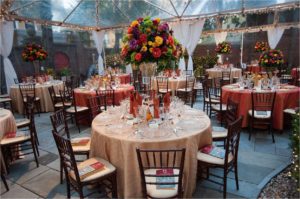 Birthdays and Family Celebrations
Important days deserve something special. Whether someone else is hosting or you are bringing friends and family together, Ella Burling Hall will provide a warm and inviting place to celebrate a birthday, shower, anniversary or milestone. There are cozy corners to sit and visit and enough space to dance or just relax and mingle with your friends.
November and December dates are booked quickly. ISH does not rent space on Sundays.
Our chef can help you design a menu that can be as elegant or informal as you wish. Ella Burling Hall is large enough for your reception of 80 with ample room for dancing. For music you may hire musicians or connect your computer or MP3 player to our audio system.