Furnished Rooms
with
Month to Month Rent
and
Just a 5 Minute Walk to the Dupont Circle Metro
Currently welcoming applications for Spring 2019!
Ready to Apply!     I Still Have A Question
As of August 30th, availability for Fall 2018 housing is limited. Our best availability starts in Spring 2019 starting January 1 or 15th. See below for vacancies.
If you would like to be placed on our waiting list, submit an Application along with the nonrefundable $50 application fee. Our ability to offer a space to a wait-listed applicant depends on how many cancellations we receive throughout the summer and the timing of your housing needs.
| | | |
| --- | --- | --- |
| Date | Women | Men |
| September 1st | No Vacancies | 1 Vacancy |
| September 15th | No Vacancies | 2 Vacancies |
| October 1st | No Vacancies | 3 Vacancies |
| October 15th | No Vacancies | 3 Vacancies |
| November 1st | No Vacancies | 4 Vacancies |
| November 15th | 2 Vacancies | 8 Vacancies |
| December 1st | 4 Vacancies | 8 Vacancies |
| December 15th | 20 Vacancies | 14 Vacancies |
| | | |
| Spring Semester | 24 Vacancies | 25 Vacancies |
Our House is made up of 100 people representing over 30 countries make up ISH-DC's community. Living here means you can have a morning coffee with an Italian, walk to the Metro with an American and enjoying dinner with a Peruvian.
Does surrounding yourself by people from other cultures excite you?
"After considering other housing options, I realize that living at the International Student House is the best fit for me, because of the chance to become a part of this special community."
-ISH-DC Applicant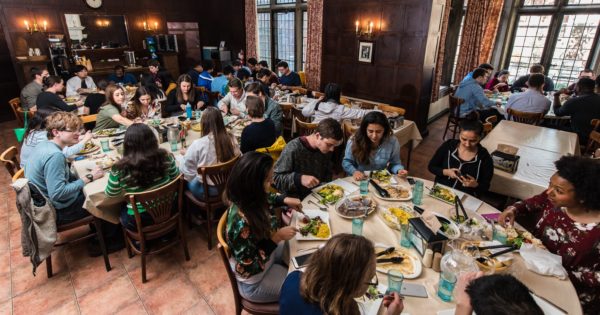 What about the price?!?
We offer below market room and board for graduate students, interns and visiting scholars.
Lower rates: $1,266.00 / Higher rates: $1,786.00
With the average double room priced at $1,544.00
(All rates are per person)
Warning: Washington, DC can be an expensive place to live!
ISH-DC is located in the Dupont Circle neighborhood.
Read about The True Cost of Living in DC
Looking to decrease your monthly rent?
We have a few "work credit" programs designed to lower your monthly rent. You must be a resident for one month in order to apply for any work credit program. Inquire about these programs when you arrive at ISH-DC.