Looking for a living environment that is engaging, diverse and exposes you to people and ideas from all over the world?
As of April 23rd, we have limited availability for the Summer 2018 season. See below for vacancies.
If you would like to be placed on our waiting list, submit an Application along with the nonrefundable $50 application fee. Our ability to offer a space to a wait-listed applicant depends on how many cancellations we receive throughout the summer and the timing of your housing needs.
| | | |
| --- | --- | --- |
| Date | Women | Men |
| May 1st | No vacancy | 6 |
| May 15th | No vacancy | 6 |
| June 1st | No vacancy | 6 |
| June 15th |  No vacancy | 6 |
| July 1st | No vacancy | 4 |
| July 15th | 4 | 2 |
| August 1st | 10 |  No vacancy |
| August 15th | 10 |  No vacancy |
Our House is made up of 100 people representing over 30 countries make up ISH-DC's community. Living here means you can have a morning coffee with an Italian, walk to the Metro with an American and enjoying dinner with a Peruvian.
Does surrounding yourself by people from other cultures excite you?
"After considering other housing options, I realize that living at the International Student House is the best fit for me, because of the chance to become a part of this special community."
-ISH-DC Applicant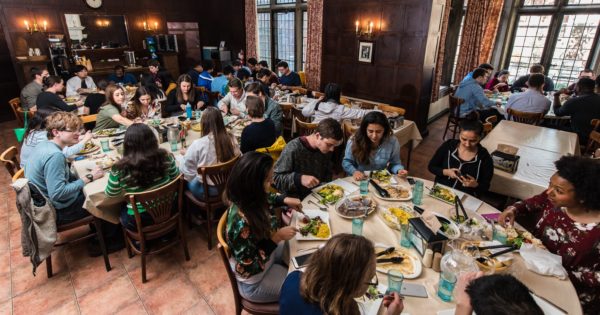 What about the price?!?
Depending on the size and how many people you share a room with our rates range in price.
Lower rates: $1,266.00 / Higher rates: $1,786.00
With the average double room priced at $1,544.00
(All rates are per person)
Warning: Washington, DC can be an expensive place to live!
ISH-DC is located in the Dupont Circle neighborhood.
Read about The True Cost of Living in DC
Looking to decrease your monthly rent?
We have a few "work credit" programs designed to lower your monthly rent. You must be a resident for one month in order to apply for any work credit program. Inquire about these programs when you arrive at ISH-DC.