Host your next event with us!
The Meserve-Lloyd House of International Student House of Washington, D.C. provides a unique and historic venue for dinners or receptions, business conferences or meetings, and corporate events.
The House is located in the heart of Washington, DC's dynamic Dupont Circle neighborhood in close proximity to the Metro system and other public transportation.
Built in 1912 as a private residence, the Meserve-Lloyd House evokes characteristics of the Tudor Era. One distinctive feature of the House is the leaded glass windows, the most striking of which is a semi-circular bay enclosing the landing of the grand staircase. The second-floor gallery also has large leaded windows and floor to ceiling dark oak wainscoting, as do the Library and Study. The House's magnificent two-story Great Hall is modeled after a space in Haddon Hall in Derbyshire, England. Furnishings include original pieces dating backing to the Elizabethan era and the Renaissance Revival period.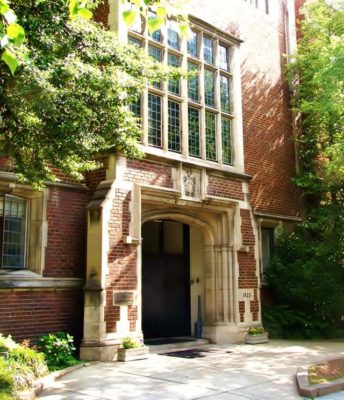 Urban and Intimate
Our Tudor-style house includes a Great Hall, library and garden that provides an elegant and intimate setting for your guests.

Convenient and Accessible
Located in the Dupont Circle Historic District, two blocks from the Dupont Circle metro station and a commercial parking garage.
Creative and Cultural
Our events philosophy follows our mission: to bring people together, share ideas and experiences, and foster understanding and respect.
Personalized and Memorable
Our staff is committed to helping you host a memorable event that exceeds your expectations. Our kitchen can create a catering menu to meet your food needs and budget.
Historic and Unique
This early-20th century mansion at 1825 R Street is unlike many other Washington, DC venues. We have been holding events for over 70 years.