THANK YOU TO OUR DISTINGUISHED SPEAKERS AND ALL WHO JOINED OUR INAUGURAL INTERNATIONAL EDUCATION WEEK SYMPOSIUM


NOVEMBER 17, 2020 at 10:30 AM ET
International Student House of Washington, DC was delighted to welcome the distinguished speakers who joined us for the Prospectus as we highlighted the current state of international educational exchange and its role as a driver of innovation and economic growth.

We will be sharing the recorded video shortly
CLICK HERE FOR THE ELECTRONIC PROGRAM INCLUDING SPEAKER AND PANELIST BIOS
FEATURED SPEAKERS: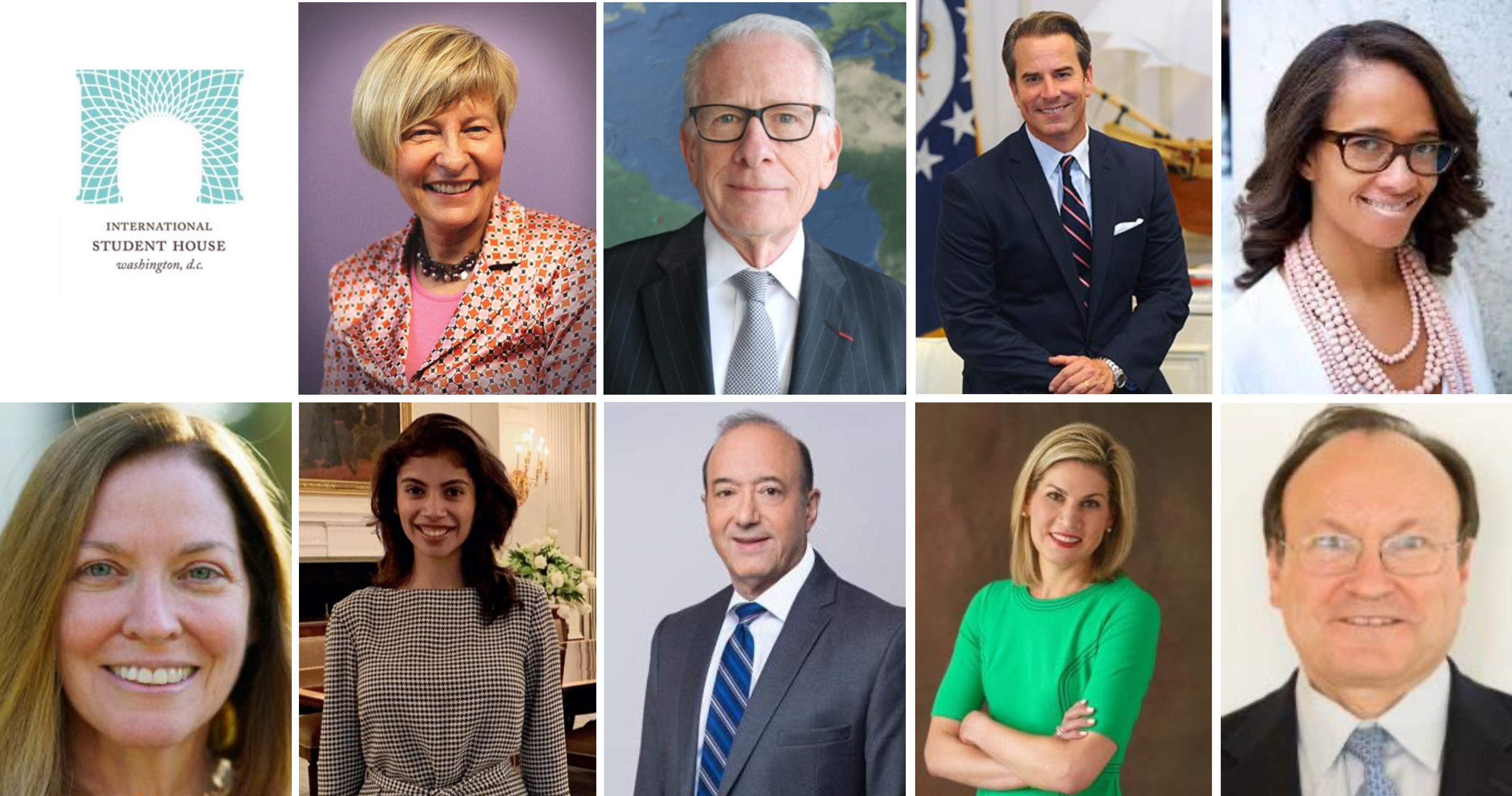 In order of photos top left to bottom right:
Denise Amyot, President and CEO, Colleges and Institutes Canada (CICan)
Allan E. Goodman, President and CEO, Institute of International Education (IIE)
The Honorable Stuart W. Holliday, President and CEO, Meridian International Center
Tonija Hope Navas, Director, Ralph J. Bunche International Affairs Center, Howard University
Miriam Feldblum, co-Founder and Executive Director of the Presidents' Alliance on Higher Education and Immigration
Kalika Likhi, Associate, Invest India; International Student House Alumna
Jeffrey Gorsky, Senior Counsel, Berry Appleman & Leiden LLP; former Chief of the Legal Advisory Opinion section of the Visa Office, U.S. Department of State
Lorraine Riffle Hawley, Senior Director of International Government Relations, Archer Daniels Midland Company
Scott Wayne, President of SW Associates, LLC; former head of the North America office of the World Travel and Tourism Council; former Chief of Communications at the UN World Tourism Organization
International Student House of Washington, DC
was pleased to convene experts at the intersection of higher education, public, non-profit, and private sectors.
The panels explored how international education contributes to the U.S. economy not only through jobs directly related to international exchange, but through the economic spillover effects for cities, states, the tourism and services industry, as well as the talent pool and innovation brought about by international exchange participants.
The event concluded by recognizing Congresswoman Nita Lowey and Stephen Lowey for their decades of work and commitment to international educational exchange.

SPONSORED BY:

Ambassador Fletcher Burton
PARTNER:


A very special thank you to our Board of Directors and sponsors of the event.

_______________
PROGRAM SCHEDULE
10:30 AM ET
Welcome and
Opening Remarks
10:35 AM ET 
The State of International Exchange in Education
11:20 AM ET
Panel: The Economics of International Exchange
12:10 PM ET
Leadership Recognition
Presentation