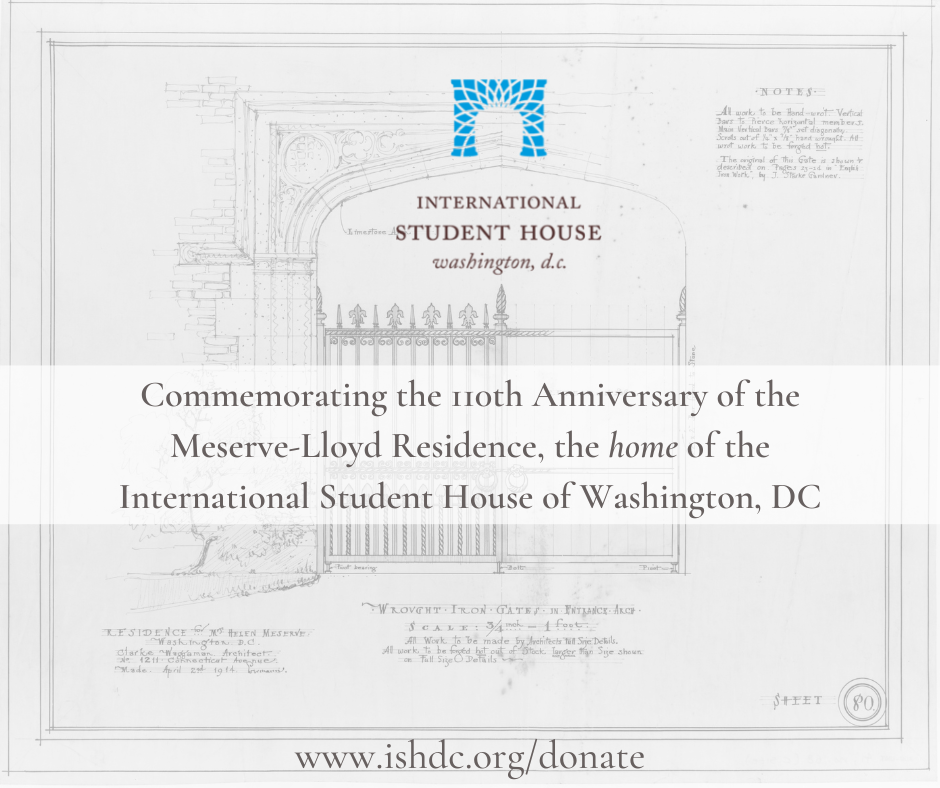 In 1912 Henri Meserve engaged the services of Wolcott Clarke Waggaman to build a Tudor-style house at 1825 R Street, NW. The resulting edifice was one of great elegance and majesty in a neighborhood of fine townhouses and grand mansions.
Demarest Lloyd continued the legacy of the house when they purchased it in 1925. The house was the scene of some of Washington's loveliest parties. Presidents Coolidge and Hoover were entertained here. The Great Hall was a scene of performances by famous musicians and grand balls that were remembered by all who attended.
The International Student House -the organization- was founded in 1936 by the American Friends Service Committee.  They purchased the Meserve-Lloyd Residence in 1946 to expand the capacity of the International Student House. Since then, various accommodations and renovations have occurred to ensure that the Residents that live there feel The House is their home away from home.
Today, 110 years after construction, and 86 years of serving over 15,000 Residents, our community – the Board, staff, alumni, and donors – realize that The House is showing its age, and funds are needed to continue to ensure that our Residents have the best possible experience. A study has been conducted summarizing several projects that need immediate attention. We need your help in making sure that this beautiful landmark, which is critical to the success of our mission, is standing proud and polished for at least another 110 years.
With this in mind, The House is launching a campaign to commemorate the building's 110th year with funds to address areas in dire need of attention. We are thrilled to announce that several stakeholders have pledged toward the minimum goal of $110,000 by the end of 2022. These much-needed funds are the early steps to elevate and help us pursue our mission of delivering an exceptional residential experience. This initial funding will allow The House to make progress in some of the following areas, for example:
Safety and security – The current surveillance, access, and security system is over 20 years old. Maintenance and repairs are limited as the system and hardware are no longer supported by the vendor.  With crime and gun violence rising in Washington, DC, including the Dupont Circle area, The House needs to invest in updated and improved safety and security measures.
Health and comfort – Heating or cooling a house or apartment can be expensive and not always yield optimal comfort.  Imagine trying to do that in a 110-year-old building.  The Maintenance and Housekeeping team, and contractors, work hard to keep our Residents comfortable throughout the year, however older and retrofitted systems are expensive to maintain to deliver a comfortable and healthy environment.  No one can -or should be expected to work, study, or play in a room that is too hot, or too cold.
Amenities – Over the years, Residents have benefited from generous donations of new or used gym equipment, ping pong, and pool tables, among other health and leisure items.  However, with approximately 100 individuals living at the House at any given time (non-pandemic years, of course!), these items show their wear and tear.  Also, numerous pieces of furniture, some of them antiques, in the common areas and Resident's rooms, get used daily for leisure, studying, or working.   Additionally, as remote work and learning persist even as we emerge from the pandemic, a high-quality and reliable Internet connection is a must.  Important investments are needed in this regard for upgrades, repairs, and replacement.
Alumni engagement – With over 15,000 alumni from around the world, which expands by 300 every (non-pandemic) year, The House is in the early stages of developing a global alumni engagement program.  This program will allow alumni to remain connected with their home in Washington, DC.  Their engagement raises awareness about the mission, enriches the programming, as well as elevates the prominence and visibility of the organization.
Conservation and curation of historical art and artifacts – Anyone who has stepped through the doors of The House, has undoubtedly been enthralled by the richness of the history of the building, furniture, art, and artifacts that make it so special.  Residents and guests often ask about the history or stories behind artifacts, however, the answers are not always fully satisfying.  The furniture in the common areas, most of it antique, is used frequently by Residents, guests, and staff, for programs, meetings, and other activities. While it's always used with care and respect, some items are due for much-needed repairs, and restoration.
The 110th Anniversary Campaign is an early step toward developing a master plan to update The House. It has served our Residents well for 86 years, however, there are critical areas that need to be addressed to improve the safety, security, health, comfort, and amenities for our Residents to have an exceptional residential experience.
We need your support today. With your donation, we can pursue our goal of offering our Residents a home during their stay in Washington, DC.