On October 26, 2023, I-House DC welcomed over 60 Residents, alum, Board Members, and supporters of the House to celebrate the beloved Bavarian tradition of Oktoberfest. This event was an excellent opportunity for Residents to create new memories while the alum raised their steins, reminiscing their times at the House.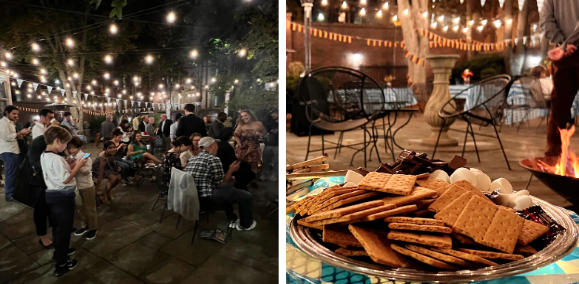 The evening started with a delightful German-themed dinner, catered by Eurest, featuring a delectable spread of pretzels, bratwurst, sauerkraut, kartoffelsalat, and, of course, the obligatory Gluhwein. As the night unfolded, legends and stories about the House came to life, with Residents and alum engaging in meaningful fireside chats on the crisp Fall night. Gathering around the firepits, they roasted marshmallows, made s'mores and celebrated the remarkable community of I-House DC.
Shoutout to House alum, Associate Committee Member and long-time supporter Minh Dang and the Head Fellow, Rempee Kalia, for spearheading the knots and bolts of the event and to all the alum, Residents, and supporters who came out to share the celebration. Our German Residents, Antonia Holland-Cunz from Kiel and Christian Kutter from Markstraße, led an informational game about different German and Bavarian traditions, which was not only educational but equally fun, if not more! Prost! This collaborative effort stands as a shining testament to the values and community-building spirit that lie at the heart of the experience of living at the House.
It is moments like these that the mission of intercultural exchange, lifelong connections and global citizenship truly shines at the House and that make our community so unique!
Head to our Instagram page for more photos and updates!