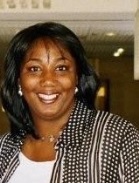 Sambia Shivers-Barclay has a strong background in comparative education, protocol, international affairs, global and cultural competencies, special education, and cross-cultural studies. She has managed International Visitors, Protocol and Dignitaries for the U.S. Government for the past 22 years. In addition, she established a successful independent contracting business in 1991  providing sign language interpreting services to a variety of clients in the fields of education, government, health care, corporate, theatrical and international. She has been an active advocate for equality for people with disabilities since 1985.
Sambia moved to the Washington, DC area after completing her BA from Antioch College, being the first to graduate with a BA in Human Development and minor in Deaf Culture, and earned her Master's degree in International Comparative Education from the University of Virginia. She has spent time abroad doing comparative studies on the socio-economic conditions of people with disabilities in Amsterdam, Rotterdam, London, and the former Yugoslavia. She spent time in Thailand with the Ministry of Education, were she  worked with senior members and conducted site visits to schools for children with multiple disabilities. Sambia was selected to interpret for the Inauguration of President Bill Clinton during the 1993 Presidential inauguration, and often interprets for theaters and events in the Washington, DC area.  She also managed protocol for over a hundred dignitaries and several Heads of State.
Sambia has served on the Boards of Rotary International, LearnServe International since 2009, Youth Leaders International, and is a former evaluator for the U.S. Department of State premier exchange programs: FLEX, YES and A-SMYLE.
For enjoyment, Sambia continues to laugh out loud with her three daughters, learn the mysteries of life, and challenge herself as she explores the world, makes new friends, and experiments with gastronomic delights.