What I find most moving about the International Student House is that … sometimes, I genuinely forget that the person next to me is from Israel, or Mongolia, or Venezuela, because at the end of the day we're a lot more similar than we are different. Ultimately, we're friends who are driven by a common purpose, and a common desire to fix some of the injustices we have encountered along our paths. It is this sense of commonality that motivates us to find common ground, to fight common fights. That is why I choose to live at International Student House:  because it shows me, each and every day, that there are good people from across the globe motivated by the same things that motivate me to pursue a life of public service.
– Alex Beck, ISH Resident Scholar remarks on February 15
Advocates, supporters, friends and resident scholars from around the world gathered the evening of Thursday, February 15, at the residence of the British Ambassador to the United States to celebrate the mission of international education and the vital role that International Student House of Washington, DC (ISH-DC) plays in cultivating relationships among students from every corner of the globe.  Graduate students from Mongolia, India, Kuwait, Germany, South Sudan, China, and the United States represented the high caliber scholars who make up the community at ISH-DC, who prepare to return to their respective countries with the education they have gained here in Washington to become the world leaders of tomorrow. The Tribute Dinner was a wonderful evening hosted by our 2017 Global Leadership Awards Diplomatic Chairs, His Excellency Sir Kim Darroch and Lady Vanessa Darroch, as a special thank you to our many supporters.
Ambassador Darroch addressing guests
ISH-DC Resident Scholars Mariel Kalkach of Mexico and Meghna Saha of India, with Board Member and alumnus Minh Dang
Congressman Mark Meadows and Ambassador Darroch
Ambassador Darroch shared powerful remarks about the importance of international education and exchange, and some fun moments about his own educational pursuits when he was in university.  His remarks were highly encouraging to our students who are just beginning their careers and hope to one day be strong leaders, as well. Cynthia Bunton, President of the Board of Directors of International Student House, followed the Ambassador by eloquently conveying why such an organization is so vital, and her unique understanding of the value of the community as she shared,
"I am an alumna of the House.  I lived there many years ago.  For the past 81 years, more than 15, 000 young scholars and professionals from about 140 countries have lived at the House – sharing meals, pub quiz tournaments, and common space.  Every year, 300 students from 60 countries pass through our halls.  While every group of students is different, what we ultimately take away from ISH is the same.  And that is how to live together and how to better understand the world."
International Student House resident scholar, Alex Beck, spoke about his experience of almost two years as a resident of the House.  Alex shared about the many incredible relationships he has built with friends from Venezuela, Japan, Nigeria, Thailand, Mexico, India, and many more countries.  He expressed how much he has learned about other cultures and how he will utilize this knowledge as he prepares for a life in public service.  He is one of thousands of students who have benefited from the powerful eye-opening experience of learning and living with counterparts from around the world.
You can read Alex's full remarks Here.
ISH-DC Resident Scholar Alex Beck and Lady Vanessa Darroch
ISH-DC Board President, Cynthia Bunton, Ambassador Ray Mahmood and Shaista Mahmood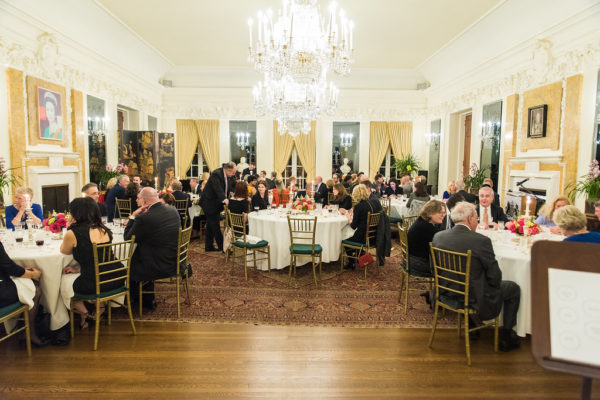 Our alumni have gone on to become Ambassadors, leaders in government and the private sector, and champions of the need for international dialogue and community.  They are a testament to the talent of our resident scholars, and are the first to share the importance of their time at International Student House and the relationships they have maintained with former residents from all over the world throughout their lives.
Ambassador Michele Bond, Lisa Barry, Didi Cutler
Dr. Susan Blumenthal Markey addressing guests
The evening ended with wonderful words by our Global Leadership Awards Chairs, Dr. Susan Blumenthal Markey and Mrs. Didi Cutler, who thanked our incredible supporters and friends, and shared about their work with the House and the confidence they have in our community of young international scholars.
We are grateful to Ambassador and Lady Darroch for hosting us for this memorable evening, and we remain grateful to our generous sponsors who support our House and our mission of providing a unique cross-cultural experience to develop students and scholars into exemplary global citizens.
Ambassador Darroch and Senator Ed Markey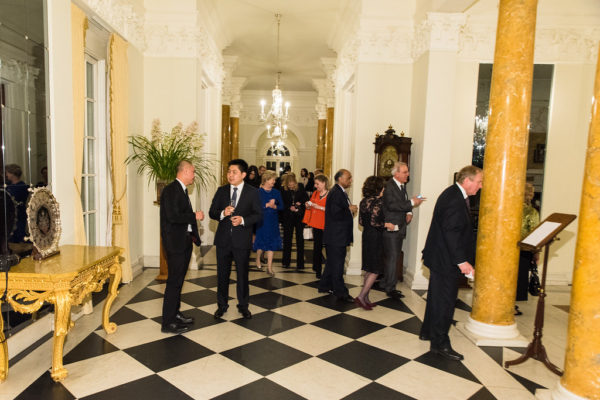 You can view more photos from the evening Here.