In early August, some fellow residents and I decided to take a day trip to Philadelphia, Pennsylvania to explore the city and all that is has to offer! Philadelphia is about 2 ½ hours from International Student House if you are commuting by car, making it the perfect destination for a day trip.
It was lunch time when we arrived, so we decided to stop at the Reading Terminal Market for lunch. As you may know already, Philadelphia is very well known for Philly Cheesesteaks, however, I chose to break the tradition of getting a Philly Cheesesteak and instead opted to dine at another famous location within the market. Dinic's Roast Pork has been serving up delicious sandwiches at the market since the early 1970's and was recently awarded for having the "Best Sandwich in America". This award was given to them by the Travel Channel. The sandwich they are well known for is the roasted pork sandwich with broccoli rabe and provolone cheese. Given the amount of excitement surrounding Dinic's, I chose to give their sandwich a try. After my first bite, I was quite surprised at how good a roasted pork sandwich could taste. The cheese and the pork tasted outstanding together and the broccoli rabe just added a whole other element to the sandwich that I really enjoyed. Following our meal at Dinic's, we went and had cookies at The Famous 4th Street Cookie Company. The cookies were incredible, and I recommend their chocolate chip or oatmeal raisin cookies!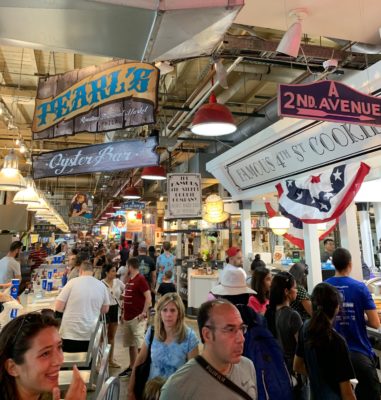 After our time at the Reading Terminal Market, we chose to explore city hall which is nearby and an excellent place to take pictures! Additionally, we saw the Liberty Bell and Independence Hall which were incredible sights to see. Take note however, that if you are traveling to Philadelphia you may want to make reservations in advance to see these sights. Getting reservations the day of your arrival can be rather tricky at times!
Finally, we completed our tour of Philadelphia by checking out Penn's Landing which is a beautiful waterfront area on the east side of Philadelphia that contains multiple waterfront restaurants and bars, small boutiques and beautiful parks for relaxation. I hope that I am able to return to this city in the near future as there was so much I was unable to see while I was there!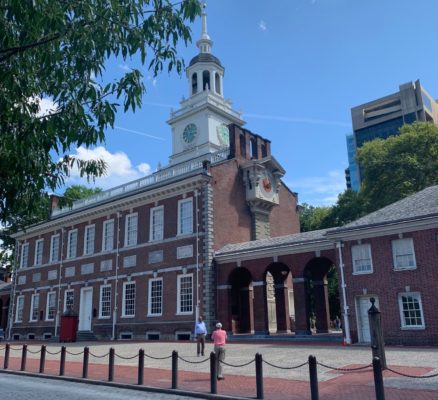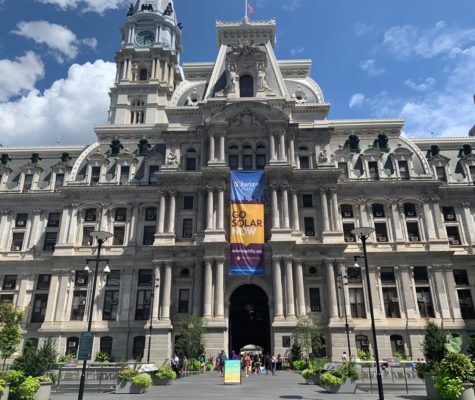 A note to future ISH residents hoping to make the trip: If you are traveling to Philadelphia by car, make sure you have enough cash put aside for tolls (around $35 total) and parking for the day (another $35-$40 total). Additionally, be sure that you are going on a day/time that the Reading Terminal Market will be open. Sometimes they have rather odd hours and it would be a shame to travel to Philadelphia on a day that the market is closed! Finally, bring a great camera. There are so many places in Philadelphia to take beautiful pictures!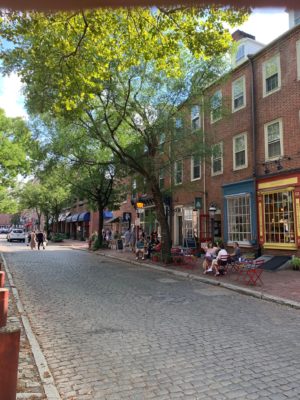 Not long after the weekend in Philadelphia, some friends from ISH and I chose to travel to New York City for a weekend trip. On the Friday of our arrival we had the opportunity to go on a boat cruise in the Hudson River and see incredible views on Manhattan. As I stood out on the boat I was completely mesmerized by the size of the city and the number of skyscrapers that reached beyond the eye could see. Additionally, while on the boat I was able to see the Statue of Liberty which was a gift to the United States from the people of France in 1886. Never before had I been so awestruck by such a gorgeous monument which represents freedom and has seen so much happen in the United States.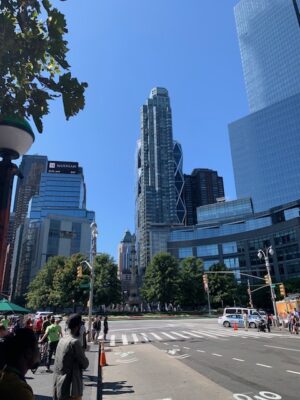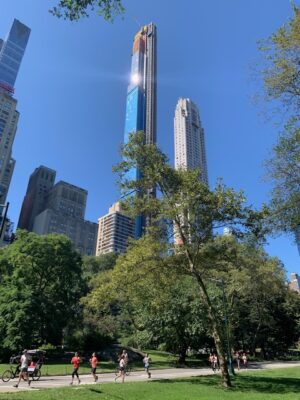 Following our time on the boat cruise, we decided to spend our Saturday exploring Central Park and seeing the various sights of the city. In movies Central Park appears to be quite small in comparison to other parks throughout the country but the park is quite large and takes up quite a bit of land on Manhattan. The park contains multiple bike and walking trails and even has a zoo which was really fun to explore. While at the zoo I was able to see snow leopards, grizzly bears, as well as penguins, puffins and sea lions. On our last day in New York City (Sunday) we went to see the 9/11 memorial and the New York Botanical Garden which had a variety of lovely exhibits. My favorite exhibit in the botanical garden by far was the rock garden because of the many different alpine flowers fixated between the rocks in the garden and a lovely waterfall that is the centerpiece of the garden. The rock garden is one of the most peaceful and tranquil placed I have ever been, I highly recommend visiting here if you ever visit New York City.