Have you noticed? It really is December and  the holidays  are in full swing! Soon, it will be Christmas Day. Here at ISH, signs of the season are now all around. For some, December 1 rang the bell for that final season of "all-nighters"- exams are around the corner. For others, it's the season for cider and ice skating, for Christmas Carols.
For many of us, it's truly a mix of both.
Personally, the first of the season came and passed almost unnoticed, as final papers really seized the monopoly on my attention. But luckily, the team of ISH makes sure the Christmas Joy is sizable in the House! Piece by piece, seasonal spirit has appeared: First, there was fir green in our lobby, then above our entrance door, now fairy lights in the garden- we even have a Christmas bell above our door. What can I say? It's classy and beautiful. Above all, no matter what we're up to- be it exams, the end of year rush at internships or a much-loved trip to the Messiah concert, ISH decorations bring a smile to our faces.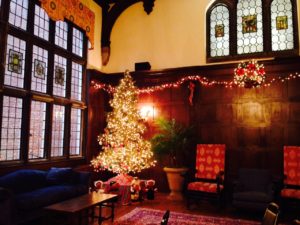 Some evenings, one of our residents plays the piano in the great hall- and marvelously, too.                With the Hall all lit up by fairy lights, a Christmas tree standing by (soon to be decorated) you easily find yourself stopping on that downstairs run for coffee to take in that beautiful holiday atmosphere.
Soon we'll be having our Christmas party, including tree decorations and a Secret Santa gift exchange.  Oh, and just wait till exams are over.  Ten days from now, celebration will be in order. And my roommate Meg and I have already decided: We'll be sharing the joy with Christmas carols all day long! So, beautifully, Christmas is coming to ISH.
T'is the season. With it comes, inevitably, a string of farewells, making it bitter sweet. Many beloved roommates and partners in crime for games of pool, heated debate, shopping trips and study parties will be leaving the house before Christmas. What can we say? It's been a blast, this year. No matter if we spent two months or six, or even 12 together- great friendships have been built, oh priceless moments shared!
No matter where we go off to in the world, our time at ISH-DC will always connect us. Reunions and visits are already being planned.
To those who are leaving: Be blessed, take care! And until we meet again: Here's to friendships' beautiful beginnings at ISH.