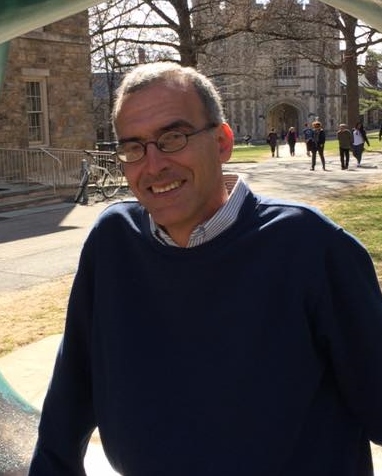 On Monday, August 15, 2016, David Ruiz, ISH-DC's long-time Business Manager, passed away.  David was an institution at the House – first as a resident scholar in the 1990's and then as our Business Manager for 19 years.
For those of you who knew David, we ask that you celebrate with us his extraordinary commitment not only to ISH-DC, but to his deep and endearing personal relationships with our residents and alumni.
David was often one of the first people new residents met when they entered through our doors.  Through his daily interactions with residents, he formed many personal and ongoing friendships.  Just the other week, a British alumnus from 2000 visited the House, hugged David, and started talking to him as if it had only been a few days since they last saw each other.  He stayed in touch with countless alumni, traveling throughout the world, visiting them.
Here at the House, David will be remembered for his love of movies and Coca-Cola.  His desk was always decorated with at least one empty Coke can.  He was commonly seen walking down R Street to 7-Eleven when he needed an afternoon caffeine boost.  David loved film and sharing his interest with others.  In fact, residents and his colleagues often asked his review of a movie before going to see it themselves.
David will also be remembered as a modest man and a gentle spirit. A few years ago, ISH-DC Executive Director, Tom O'Coin, casually asked David what he did on his day off.  He responded "I went to a reception at the White House."  David had neglected to mention that his father was receiving the National Humanities Medal from President Obama!
These are just a few of our fond memories of David.  We hope you will also share with us your memories of him so that we can collect them for his family.  ISH-DC and the Ruiz family are planning a memorial service for David here, at the House, on Saturday, September 10 from 4:00 to 7:00 pm.  We have limited space, so we ask that you let us know if you plan to attend by emailing Katherine Russell, [email protected]
A number of alumni have already contacted us, asking how they can help keep David's memory alive.  The Ruiz family has established the David Ruiz Memorial Fund for alumni programs.  If you would like to make a contribution in David's memory, please go to our website Here.
You may also make a check payable to:
International Student House
1825 R Street NW
Washington, DC 20009
Please indicate that the gift is for the David Ruiz Memorial Fund.
ISH-DC "is a home away from home" for our students and resident scholars.  It was also a home away from home for David.  His death is a tragic loss to our family.