Fall has officially arrived in DC- cue the streets lined with fallen leaves, an abundance of pumpkin-spice-everything in all the stores, and the words "crisp", "autumn", and "cozy" being liberally tossed into all text and marketing. This is also my favorite season for exploring DC, because it's cool enough to walk around without sweating, but warm enough so you aren't constantly shivering.
In order to take advantage of the fall foliage, a few ISH residents bundled into an Uber XL to make our way to the National Arboretum. We arrived first at the very extensive bonsai collection, which was divided into regions of origins of the plants. My favorites were the whimsical show ones- there was a tree that had been trained into the shape of a trumpet. A couple of people also enjoyed listening to a guide explaining about the history of one of the trees.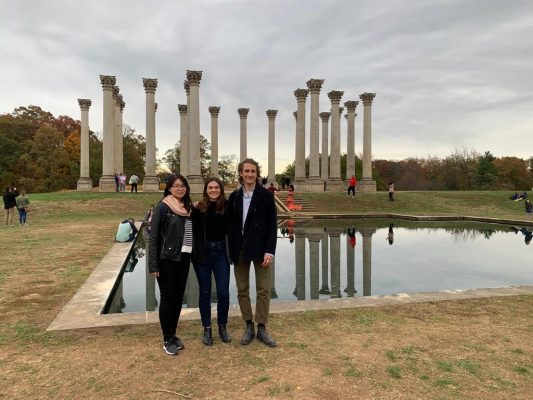 After whittling half of the afternoon away amidst the bonsai collection, we saw the National Capitol Columns. An interesting fun fact- the National Capitol Columns are so named because they were part of the former United States Capitol, and were only moved to the National Arboretum in the 1980s. It was the perfect spot to take photos; there were several other professional photoshoots going on besides our very casual ones. Finally, we attempted to see the lake in the Arboretum, past the Chinese Gardens. "Attempted" because we got distracted along the way and ended up sitting by the roadside and enjoying the setting sun.
The other highlight of my month has been trying out different kinds of cuisine. This began one weeknight when, having forgotten to order late dinner, I sat down with my microwaved siew mai (a kind of dumpling) and was soon joined by fellow residents Kaori (from Japan) and Meong (from the Philippines). After a very involved conversation on different food cultures, we made plans to go to a place called Purple Patch to try Filipino food.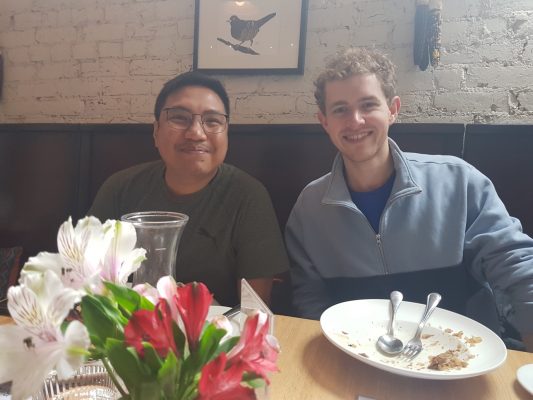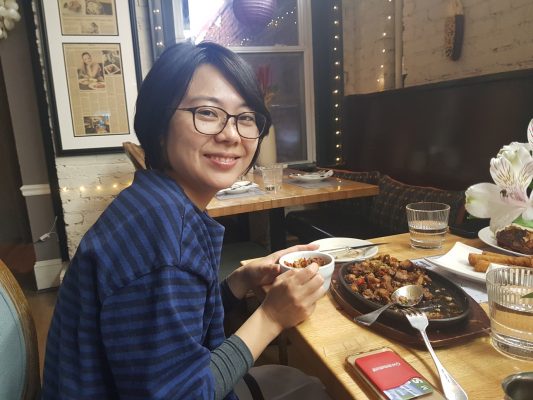 So one bright weekend morning, the three of us, joined by our friend Stefan, walked half an hour north to Purple Patch, which turned out to be a very trendy kind of restaurant serving classic Filipino dishes and American comfort food. After Meong explained all the dishes, I ended up having the Sizzling Sisig. The dish included pork belly that was indeed sizzling, served on a hot plate, with a side of garlic fried rice and a very sweet vinegar. Meong also ordered a side of lumpia for us to try. I think Filipino food in general is pretty much in the same ballpark as Singaporean food, being from the same region, so the flavors weren't completely alien to me. But the combination of everything was very novel (especially the vinegar, which I loved), and I would definitely go back for more if I could.
Our food explorations continued this week, as we headed to Sakana for some Japanese food. Located on P Street, Sakana is just a stone throw away from ISH, and has some good reasonably priced Japanese food. I chose the Sukiyaki, which consisted of beef and vegetables stewed in a clear, sweet broth, on yet another hot place, with a side of white rice. I would also recommend it to anyone looking to try some Japanese food that isn't sushi.
As a diverse and international city, DC is a great place to try new cuisines, especially if you do some research on where to go. (But sporadically of course, because DC prices aren't very student friendly and besides, ISH has a great dining hall of its own.) We've already picked out the next food exploration: Ramen, which we all happen to love. It will be perfect for transitioning into Winter, which I can already feel is coming.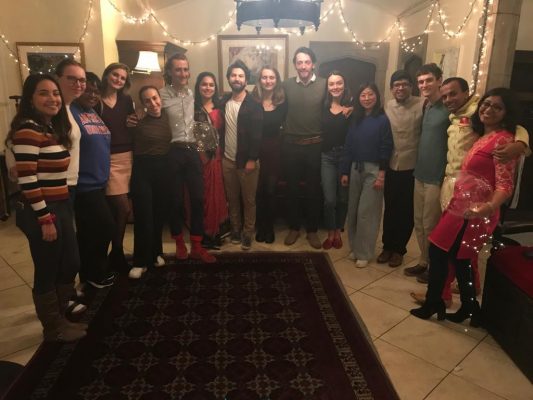 Also this month at the House, some residents put together a Diwali celebration, which saw the lobby and entrance way bedecked in glittering fairy lights. With snacks set up on either side and a projection screen playing Bollywood dance clips and music videos, residents had fun learning more about the Festival of Lights.
All in all, I'm giving thanks for another season of discovery at ISH.