We have had the privilege of welcoming numerous distinguished guests to International Student House of Washington, DC (ISH-DC) in recent months. Our resident scholars, alumni, Board members, and donors have had the opportunity to learn from many of these prominent individuals, and no experience better highlights the opportunity for our residents than our Ambassadorial Dialogue Series.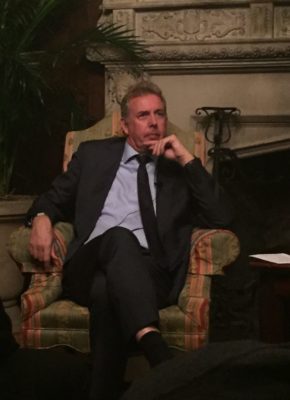 Sir Kim Darroch, the British Ambassador
This past November we were delighted to welcome Sir Kim Darroch, the British Ambassador, to the House to share his insights on our transatlantic alliance, Brexit, and our change in administration in the United States.  Ambassador Darroch responded to a number of questions about his previous role as National Security Advisor for former Prime Minister David Cameron and his current role as the Ambassador to the United States. Our residents were grateful to learn not only about the relationship between the United States and the United Kingdom from his perspective, but also the significant role both countries play on the global scale and in respect to their own countries. Ambassador Darroch shared about the complexities of these international relationships, which was highly interesting to our young scholars preparing to build their careers in the international arena.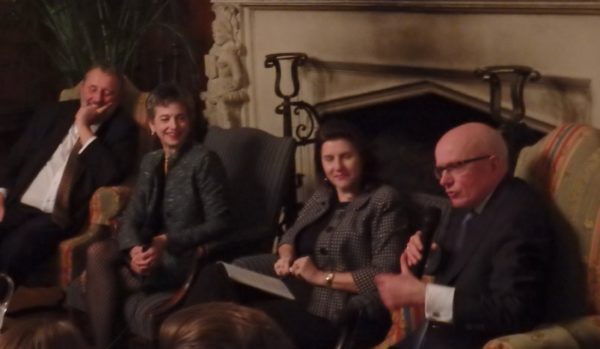 Ambassador Henne Schuwer of the Netherlands, ISH-DC Board Member Barbara Slavin, Ambassador Sylvie Lucas of Luxembourg, Ambassador Dirk Wouters of Belgium
In early 2017, the Ambassadors of the Benelux Union, Ambassador Dirk Wouters of Belgium, Ambassador Henne Schuwer of the Netherlands, and Ambassador Sylvie Lucas of Luxembourg, joined us at ISH-DC to speak on the complexity and necessity of international alliances. We consistently have resident scholars from Belgium and the Netherlands, and from time-to-time Luxembourg, so our residents were particularly interested in hearing what their Ambassadors where prepared to share.  We greatly enjoyed learning from the Ambassador's address and their interactions with each other as they shared their insights as the representative of their country, and together representing the Benelux union.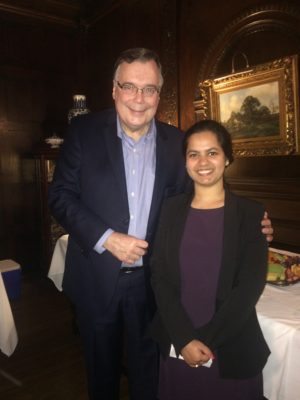 Ambassador Haarde with ISH-DC resident scholar Sanghmitra Sahai from India
Ambassador Geir Haarde of Iceland and Ambassador Leonidas Pantelides spoke at the House in May on how to best represent their countries here in Washington.  They particularly focused on how to ensure their country's priorities stand out among the many diplomatic missions in DC. Their candid answers were incredibly appreciated by our many residents, Boardmembers, and guests who joined us for the evening.  The Ambassadors were exceptionally generous with their time as they spoke with our residents who were just completing the end of their semesters and internships, and keen for advice from the Ambassadors.  Given their great success in government, the public, and the private sectors, they were certainly the right individuals for our residents to learn from.  Ambassador Pierre Clive Agius joined for a small dinner after the address, directly following a reception he hosted in honor of Malta's Presidency of the Council of the European Union, and Ambassador Haris Lalacos of Greece also joined us for the evening.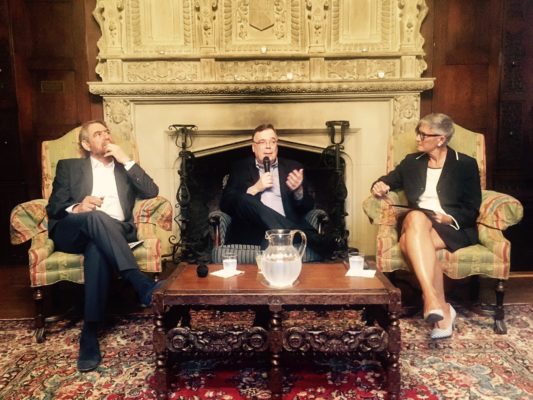 Ambassador Leonidas Pantelides of Cyprus, Ambassador Geir Haarde of Iceland, ISH-DC Board member Linda Harper
A group of ISH-DC residents also had the exciting opportunity to visit the residence of the Ambassador of Liechtenstein, His Excellency Kurt Jaeger.  They had an incredible afternoon where they shared a traditional Liechtenstein meal, and Ambassador Jaeger shared about his role representing his country in the United States and his work in the private sector. Residents from France, Mexico, India, Denmark, the Netherlands, Finland, and the United States learned a great deal about the small but important country.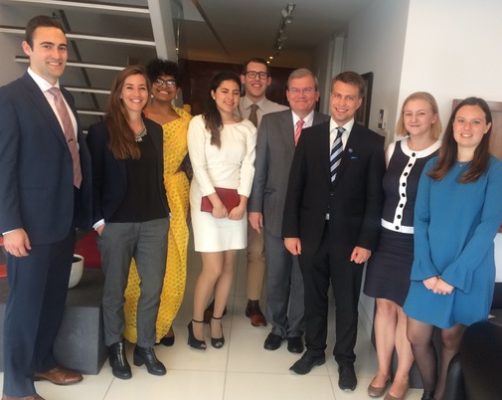 ISH-DC resident scholars with Ambassador Jaeger of Liechtenstein
Thank you to all the Ambassadors who have taken the time to speak at International Student House and share about your work and the paths you have taken to get there.  Our residents are incredible students and young professionals, and they are here at the House because they believe understanding the importance of relationships and alliances are vital to their future as leaders in their respective countries.  Learning from those who have succeeded in the fields they hope to enter is a step in helping them get to where they hope to be, and a vital part in the investment in our future world leaders.