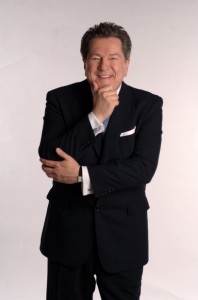 Host of PBS "Moment of Luxury" series              
William (Bill) Stubbs, International Student House (ISH) resident 1970-71, is a Houston-based, award-winning Americaninterior designer, owner of William W. Stubbs & Associates,author, and television show host. He is recognized by Architectural Digestas one of its top 100 interior designers. While residing at ISH, he attended the International Institute of Interior Design (now incorporated with Marymount University, Arlington, VA)
As a sixth generation Texan growing up in a small town, Bill Stubbs surprised his family when he announced his decision to study interior design. His hopes were set on Parsons School of Design in New York City but his parents vetoed the school because of the location. Washington DC was deemed a more suitable city so Bill entered the International Institute of Interior Design (IIID) at 22nd & R Streets. (IIID shut its doors in 1990 and is now part of Marymount University.)
The International Student House (ISH) was the ideal place to live while Bill studied classical interior design with Wilhemina Boldt, the founder of IIID, in the early seventies. "I loved DC; I was in heaven!" He credits the combination of the academic program, ISH and being located in the heart of Washington DC as being a turning point in his life. His interests were broadened in ways he could not have imagined. "For a kid from a small town, DC was magnificent. I was awestruck."
Close proximity to the Viet Nam War demonstrations at Dupont Circle, going out in groups of 10 students to see arty movies at the Circle Theater or a live production of "Hair," a stimulating program at IIID that exposed him to mid-20th century modernism and professional business practices, and interacting on a daily basis with international housemates created the perfect milieu.
"The history of the House, its permanence and presence, moved me. The architecture still influences me. I would stare at the details of the handrails, window moldings and other embellishments and try to imagine the long-ago conversations that took place among the designers. The House was rich with ornament."
Although Bill wasn't seeking an international living situation when he chose 1819 R Street as home, the impact of that cross-cultural year enriched his life almost as much as his academic program. He went on to work in Russia for 15 years and continues to travel for interior design assignments, global clientele and locations for "Moment of Luxury," the PBS series that he has hosted since its debut in April 2008.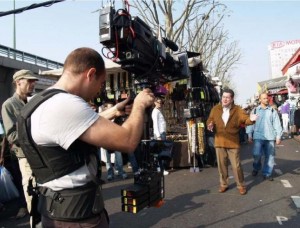 Bill Stubbs on location at the Paris Flea Market
To this day, the everlasting memory of "the passions of students from various world regions have helped me to understand the dynamics of world politics," Bill adds.
One never knows what experiences will resonate within us for the rest of our lives. Sometimes it's the little things. For Bill, weekend brunch at ISH often included waffles with cheddar cheese. An unlikely marriage perhaps but Bill's children still consider it one of their favorites – topped with maple syrup.
Memory shards of time at ISH emerge: a student from the Middle East who periodically received an antique Persian rug, shipped in brown paper, every few weeks from his family. He would hoist it on his shoulder and carry it to a nearby carpet shop to sell it. That income would pay for his tuition and room at ISH for the next month. "We were all so young," Bill sighs.
Remembering this story, which Bill admits he hadn't thought of until our conversation began, raised other memories centered on money. "All of the students at ISH were poor back then. Transferring money was a big topic of conversation." He accompanied international students to the bank and got caught up in their dramas.
Meanwhile, Bill was juggling three jobs. He was a janitor at IIID, a salesman in the men's shoe department at Woodward & Lothrop department store, and, he worked in the police division of the National Zoo. His zoo job was to stand in the parking lot and tally all of the states represented by the car license plates. The best part was wearing a snappy pith helmet; the worst part was that the work itself was boring because he was instructed not to interact with anyone. And Bill loves to talk. Check out full episodes of "Moment of Luxury" to enjoy Bill in person: http://www.wliw.org/productions/lifestyle/moment-of-luxury/series-overview/143/
In those simpler days, Bill shared a room at ISH with two roommates. It was his first time to have roommates and not altogether a comfortable experience – he admits that he had space issues. One roommate was American and extremely open ("Today I would probably appreciate him and like him a lot.").  The other man, from Mexico, studied architecture and spoke limited English. "I wanted to be helpful to him." Up until 15 years ago, they stayed in touch. Bill regrets that they lost touch and that now he isn't in touch with anyone from ISH. He is eager to reconnect with housemates and is looking forward to attending the 75th Anniversary Gala on October 28th. 
"It's not about wealth or status . . . it's about discovering the beauty around you," Bill has been quoted as saying when hosting "Moment of Luxury." Today, he adds, "The wealth of ISH for me was the House itself and its location. It was a great gift to me to live there."
To read more about Bill, visit http://www.wwstubbs.com/books.html