It has been an eventful month at ISH! Residents have been planning many cultural nights to share their country's food, dance, fashion and traditions with the ISH community. First was Bollywood Night! Delicious Indian food and drinks were served in the Great Hall followed by lots of dancing. A projector was set up to show popular Bollywood music videos and residents from India taught us their moves.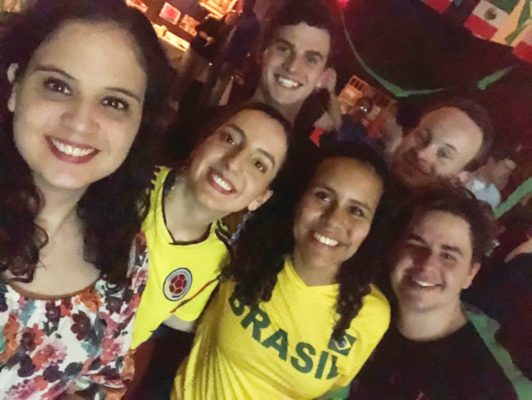 Japan Night was next. The Japanese residents decorated the Great hall beautifully with different "stations" or tables of activities. At one table I experienced a tradition Japanese tea ceremony with a sweet cake and bitter matcha tea. Another had Japanese games including Kendama, a game that involves trying to swing a ball connected by a string to a wooden stick into a cup. There was also a calligraphy station where I learned how to write my name in Japanese. The Japanese residents created a true or false trivia game that I learned a lot of fun facts from. For instance, did you know that many families in Japan make reservations at the fast food restaurant Kentucky Fried Chicken on Christmas Day? At the end of the night several residents performed a Japanese dance called the koi dance using glow-in-the-dark wands.
The day after Japanese night my Master's program at Georgetown had an International Student Night. Students cooked food from their cultural backgrounds and dressed in national outfits followed by a talent show. I wore my traditional Ethiopian dress and my roommate, Manuela wore a dirndl that she got while she was living in Germany. Here's a photo of me and Karin, one of the organizers of Japan Night and a fellow Georgetown MSFS student.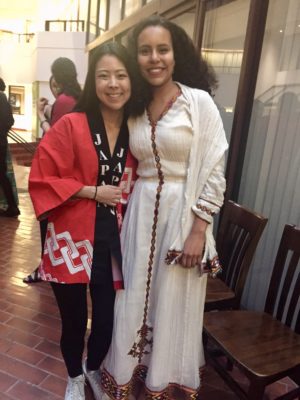 The final event of the month was Latin Night. Manuela, who is originally from Colombia, was part of the planning team along with residents from Brazil, Peru and Mexico. The Great Hall was decorated with pictures from beautiful places across Latin America as well as Colombian, Brazilian and Mexican flags. Music in Spanish and Portuguese kept things lively all night. The same morning as the event I got my Brazilian visa for the internship I will be doing at the U.S. consulate in Sao Paulo this summer. I wore a Brazilian jersey to the event and being at Latin Night got me even more excited to go to Brazil.
I am happy to report that I am now involved in planning a cultural night. On April 28 myself and residents from Congo, Rwanda, Nigeria and South Sudan will be hosting an African Cultural Night!