My first month at ISH came and went very quickly! Between grad school and ISH events there is always so much going on that time moves fast. I really appreciate how everyone at the House, whether they are interning, looking for jobs or going to school, is interested in learning and open to sharing and teaching about their field, background or country. There have been many interesting events at the house organized by residents these past few weeks. In early November there was a celebration of Mexican Independence Day complete with authentic Mexican candy, a piñata and margaritas. A few weeks later several German residents organized a briefing on the German elections and later live-streamed it in the TV room.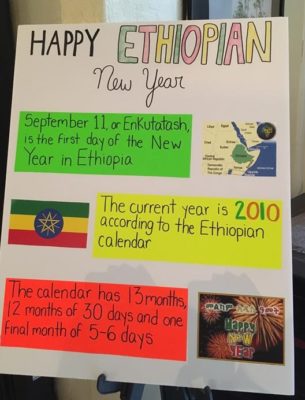 Some of my favorite learning experiences at ISH this past month have happened casually around the house. For example, I had an interesting conversation about how American reality TV shows are perceived abroad with a group of residents in the TV room as I watched 'Keeping Up With the Kardashians' for the first time (another example of something I never anticipated experiencing amongst such an internationally diverse group). Over brunch one Saturday I left the meal having learned that the Philippines is made up of 7,107 islands with over 170 languages spoken, something I had never even thought to wonder about before. Similarly, a conversation after the Mexican Independence Day celebration led to my learning that Kuwait celebrates both an Independence Day (from Britain in 1961) and a Liberation day (marking the end of the Gulf War in 1991) – the two holidays take place on February 25 and 26 respectively.
Another aspect that I love about living at ISH is the diversity of languages that are spoken. I've enjoyed keeping up my French speaking skills by talking with French residents over meals. On top of French, I recently started taking Portuguese language courses for the first time at Georgetown. As I'm studying new vocabulary or curious to know more about the cultural information my professor talks about in class, I can conveniently ask one of the three current residents from Brazil.
I contributed to the ISH spirit of cultural sharing and learning by wishing everyone a Happy Ethiopian New Year on September 11 through an informational poster. I had fun putting the poster together and ended up displaying it at the entrance of the House. I was pleased to hear that many people stopped to read the information and found it interesting.
I've learned so much living at ISH and pursuing my courses in Global Politics and Security already, I can only imagine how much more I will know (and be driven to learn) by the end of my graduate school experience. I am very happy to be constantly learning as well as questioning and developing my beliefs and values both inside the classroom and at home here at ISH.