On the evening of October 9, International Student House was exceptionally honored to welcome Bahaa Hariri, the eldest son of Lebanon's former Prime Minister Rafik Hariri, as he addressed the residents and Board of Directors of ISH.  Bahaa is Founder and Chairman of The Horizon Group, a company focused on development and investment with major projects in Jordan, Lebanon and Saudi Arabia.  He earned his Master's Degree in Business Administration from Boston University so his experiences studying in the US embody the challenges and opportunities that our ISH residents face on a daily basis.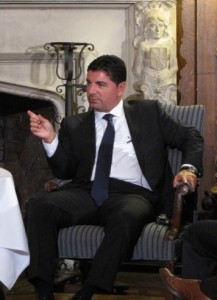 Bahaa discussed his personal perspectives on economic and political development in Europe, the Middle East, Asia and the Americas. ISH resident Abdul Abuzaid of Jordan provided the introduction and highlighted Bahaa's extensive business experience and family's political background. The conversation was moderated by Dr. Shibley Telhami, a professor for peace and development at University of Maryland and a Senior Fellow at the Brookings Institution.
Bahaa's commitment to education along with his comprehensive business experience was clear to all present. He touched on a wide variety of subjects including the global economy, business as a vehicle for conflict resolution, the role of government in business and the American educational system.  Bahaa reflected on the important impact of institutions such as ISH and noted, "International Student House is a beautiful institution where you bring people from the outside and teach them the values [of America]. If you teach the younger generation [these values], then true leadership will emerge." He stated that he chose to study in America because he believes it is the best educational system in the world and that America has contributed to his own success story.