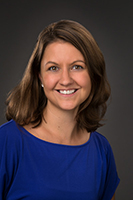 Maggie Gage is an experienced Washington, DC public policy specialist and seasoned analyst, having developed and implemented legislative and regulatory strategies on a wide array of policy issues.
As Head of Washington Research at Credit Suisse, Maggie is responsible for publishing proprietary and insightful top-down forecasting and analysis of the regulatory and legislative trends that have major impacts on a wide array of market sectors. Maggie leads the Research Team at a time when regulatory uncertainty is considered a leading business risk and Washington intelligence is vital to many investment needs.  Maggie is involved in the implementation of the Bank's regulatory and legislative strategies and focuses on issues relating to derivatives, equity markets, securitization, housing the Treasury Department, U.S. Security and Exchange Commission and U.S. Commodity Futures Trading Commission. Moreover she has helped the Bank expand its relationships with Members of Congress and their staffs, particularly in leadership and on key congressional committees including Financial Services, Banking, and Agriculture.
A veteran of Capitol Hill, Maggie worked for Chairman Patrick Leahy (D-VT) on the Senate Judiciary Committee where she handled antitrust, intellectual property, telecom, trade and judicial nominations. She also worked as an analyst at Prudential Financial and as the Director of Government Relations at Normandy Group LLC, a top government relations firm in Washington, DC.
Maggie also teaches public affairs for graduate students at Georgetown University and is a frequent panelist at industry conferences, leading discussion on politics, public policy and financial regulations in a post-crisis world.