Thursday February 23 @6:45 pm - 8:15 pm
International Student House is pleased to invite you to an
informal discussion on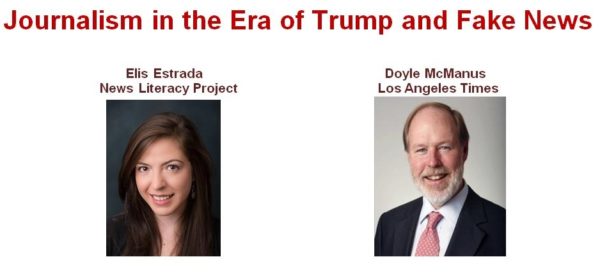 Thursday, February 23, 6:45pm
Great Hall
Please join us for a discussion with Elis Estrada of the News Literacy Project and Doyle McManus of the Los Angeles Times about the challenges facing journalists and news consumers at a time of growing competition in the news business and shifting standards for reporting. Board member Barbara Slavin will moderate.
Elis Estrada is the News Literacy Project's program manager for the Washington, D.C, region, which includes schools in the District of Columbia and its northern Virginia and Maryland suburbs. Previously, she was NLP's New York program manager, overseeing all classroom and digital programs at partner schools in New York City. Prior to NLP, Elis worked as a producer for the consumer investigative unit at NY1 News, the 24-hour local news channel in New York City. Elis received a master's degree in journalism, specializing in urban reporting and broadcast media, from the City University of New York.
Doyle McManus is Washington columnist for the Los Angeles Times. He has reported from the Middle East, Europe, Latin America and Washington, D.C. for 35 years, covering wars, revolutions and presidential campaigns.  He has worked as a foreign correspondent, a White House correspondent and (briefly) a sportswriter.
His column is published twice a week on the op-ed page of the Los Angeles Times and syndicated to other newspapers worldwide.  He appears frequently on PBS's "Washington Week" and on National Public Radio. He is a four-time winner of the National Press Club's Hood Award for diplomatic reporting, and he has coauthored three books, including the bestselling "Landslide: The Unmaking of the President, 1984-1988."
RSVP for This Event
You cannot sign up for this meal at this time. Meal sign ups are possible one week before the meal up to 4 p.m. the day of the meal.
Location
Great Hall-ISH
1825 R Street, NW
Washington DC

Have questions about late dinners?
Call: 202-232-4007 ext 213