An Open Letter to the New Residents of  International Student House,
First things first, welcome to our ISH family! We are essentially the family from My Big Fat Greek Wedding, except we won't pester you about being a vegetarian and none of us have lumps on our throats with our twins inside (at least that we know of). As all families do, we have our characters (the token crazy uncle, the grandpa that no one wants to get in political debates with, the lovable baby cousin, and so many more.) Each person in this House has their own unique story—but together, we make one big, happy (albeit at times somewhat dysfunctional) international family. We cannot wait to welcome you to our community. We all love each other here in this House and we will soon love you too!
To get some logistical matters out of the way, you should know the following: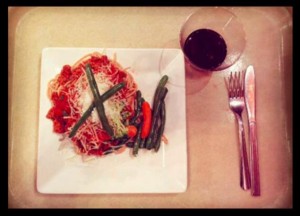 Late dinners. Ah, so much to say. You can sign up for late dinners on the clipboard in the dining hall any time before 4PM or ask a kind soul to sign you up (preferably not on the Whatsapp group). Just know that you definitely do not want to ever miss Italian night or Mexican night, so plan accordingly. (You'll thank me later.) To get a better idea of what meals are like at ISH, check out our Facebook page: Fine Dining at ISH or take a look below at a photo of a classic Italian night meal captured by House resident Robert Eklund. And one more tip: if you want to get seconds, don't use your same plate twice. Just don't. Trust me on this one or you'll have Hassent to answer to!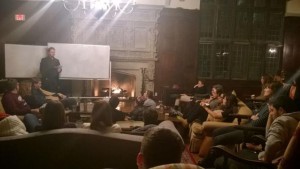 Resident Salons. Every Sunday at 8 PM in the Great Hall, we gather as a community to listen to one resident (or several) present about a topic that they have expertise in, are passionate about and is of interest to other residents in the House. In line with the mission of the House, the Resident Salon series allows us to come together and talk about our thoughts and ideas, exchange stories and experiences, and learn from one another. In the past, topics have been: The Economics of Innovation, Sexism with Chinese Characters, Mass Incarceration in the US, Persian Film, and many more! Take a look at the picture below from a presentation given by Finland's finest, Robert Eklund, on: "The Nordic Nerve System: How Geography Dictates Freedom, Prosperity and Foreign Policy Up North."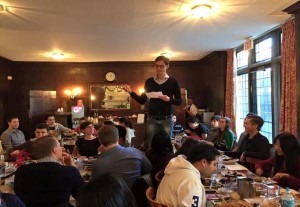 Sunday "dinner." Here's the 411 on Sunday dinner: you'll be asked to stand up and introduce yourself, 9/10 times you will be eating salmon, you'll have great conversations and many laughs will be shared, and you will definitely spill ice all over yourself when you pour yourself a cup of water. Just be ready for it. Don't miss these! And don't be late! They are an important tradition in our House. When your time is over at the House, you'll also say your goodbyes at Sunday dinner. If unconventional goodbyes are your thing, you'll fit right in. Take a look at a picture below of Italy's Marco Spreafico saying goodbye while standing on his chair at Sunday dinner: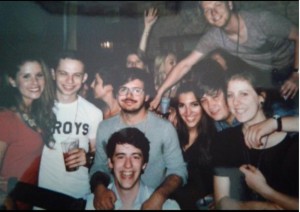 Thursday nights at the Front Page. We're convinced that we made Front Page on Thursday night a "thing." You simply cannot pass up $2 coronas, 90s music, and awkward dance moves with your fellow residents on a weekday. Clear your schedules! (And while you're at it, also pencil in trivia night at Bier Baron on Wednesdays at 7. This is a new tradition that is on the rise!)
Assassins. If you haven't heard of this game before, you will once you move into the House. Essentially it's a game of elimination. Each person has a target and is also someone else's target. You are assigned specific tasks by the Mastermind that you have to get your target to do in order to successfully eliminate them. There are also mid-game challenges, riddles, and battles. I'll leave it at that (intentionally not including any pictures so you don't have an edge on the competition when you move in!)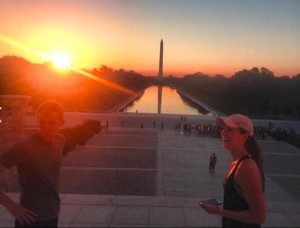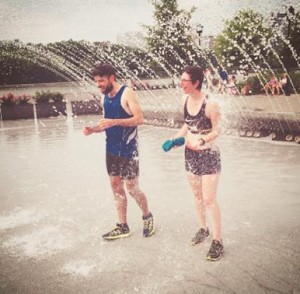 ISH Running Club! I have to admit there is some bias here. As the only *consistent* member of the ISH Running Club for about a year now, I am in desperate need of more running buddies! DC is an amazing place to run, with a lot of great outdoor running trails and scenic spots. If you don't believe me, read former resident Adam Hannah's post or take a look at the pictures below.
Music in the Great Hall. Some of the greatest memories I've had at ISH have been during evenings when we've decide to just hang out, play guitar and sing in the Great Hall. The weekend trips, mini ISH adventures and nights out are all a lot of fun (and are when so many insiders are born), but the quiet nights are what really make ISH feel like home.
Last but not least, I'll leave you with this: living in the House is truly what you make of it. These people will surprise the hell out of you with their life experiences and how much they know, make you feel and insane amount of happiness and joy, and will be there for you to boost you up on your toughest days … if you let them! Open yourself up to everything that this House and these people have to offer, and trust me, you won't be sorry that you did. In the first few days, the House can be a bit isolating but if you take the plunge and let others see who you are, you'll make some of the greatest friends you'll ever know and discover pieces of yourself along the way. At least I did. J
I know I speak on behalf of the entire House when I say that we cannot wait to meet you and welcome you into our crazy, one-of-a-kind family!
All my love,
Katherine