Despite the cold and impending final papers and presentations, December still managed to hold some fun and engaging opportunities here at the House.
The evening of Tuesday, December 4, ISH-DC was lucky to have Jim Lehrer as our guest speaker, and the following Friday, Catalin Dima, I-House NY alumnus and concert pianist, performed in our Great Hall.  Sunday completed the week as a group of residents held a gift exchange hosted by fellow resident, Aakriti Thapar.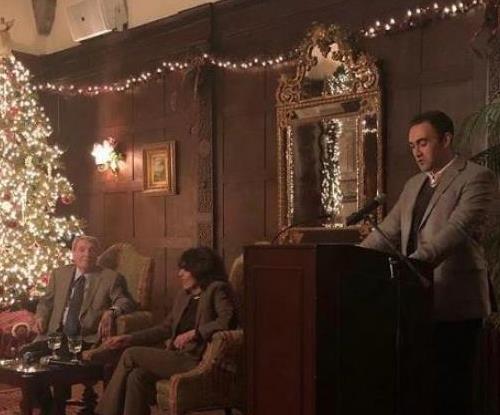 Jim Lehrer is a journalist, novelist, news anchor and presidential debate moderator. He brought his wealth of knowledge on politics, public speaking and how to "handle" tough questions (notice, that I said handle and not answer!) The House's own Alex Beck shared introductory remarks to begin the evening.
Mr. Lehrer worked in television in Dallas where he interviewed many politicians.  He had fun sharing that if you ever get a tough question, the first step is to praise the questioner for the greatness of their question, then launch into a story from your childhood, where hopefully you can seamlessly transition away from the question. When you finish your long winded story, simply say next question. I for sure took away quite a bit on how to not answer a question! If I have a tough interview, I will try out his techniques. (Better keep reading this blog to find out how it goes.)
Mr. Lehrer also discussed what it is like to be a moderator/interviewer. He says that after each debate or interview is over that he never wants the discussion to be about how he did, but to be about how the candidate or interviewee was. The sign of a good moderator is that the attention is on the debaters.  Mr. Lehrer sure knows how to handle himself and a crowd. All of us students were able to learn much from such an experienced professional.
Next we enjoyed the musical talents of Catalin Dima, who was gracious to not only play a few pieces for residents, but to spend time chatting both before and after the performance.  Catalin is an alumna of the International House in New York, or "I-House" as those who live there call it. I really liked his story and was very happy that he spent time speaking before his pieces to the crowd gathered in the Great Hall. He discussed his life and his time at an International Student House. He is Romanian, studied in NYC and currently resides in Oklahoma, as part of the music faculty at Southeastern Oklahoma State University Department of Music.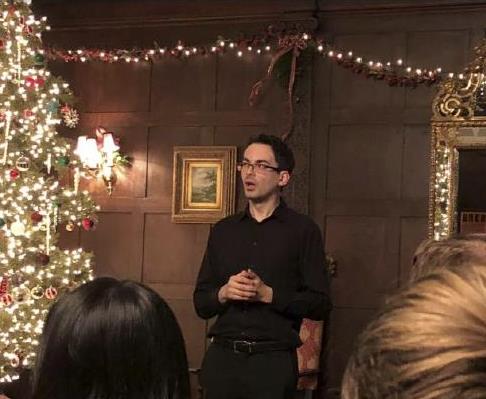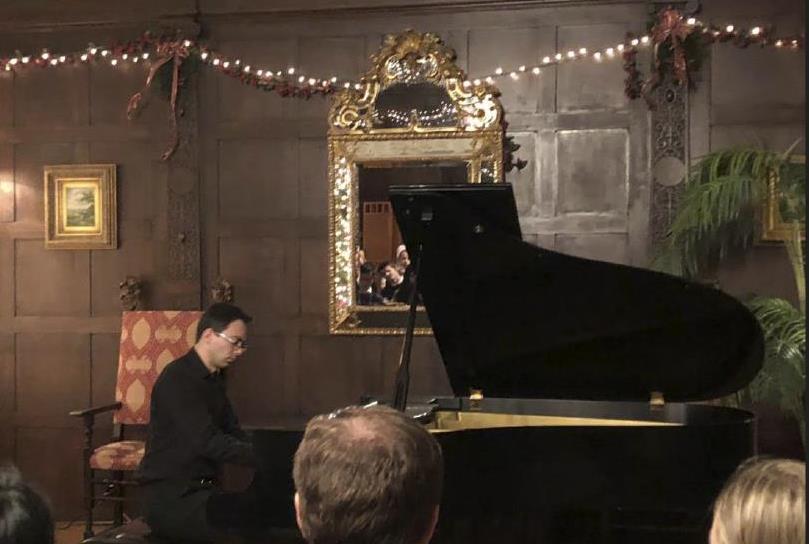 Catalin performed two pieces for us. The first of which was Frederic Chopin's 24 preludes, op.28 and the second of which was Maurice Ravel's Gaspard de la nuit. He performed both beautifully.  My favorite part of the evening was when Catalin discussed the piece Gaspard de la nuit. He talked about symbolism, and how through the piano symbolism of water, sensuality, bells, love and much more can be heard. I am a mathematician at heart, and find it best to view the world through hard objective numbers. However, his explanation of the symbols within the music, opened my ears to that heartwarming sound. I didn't just hear the technical strokes of the keys, but the chimes of bells and the sounds of moving water. This piece truly is a poem, allowing the listener to hear a love song. He has a gift, a talent for bringing music to life.  He ended the night by saying that he hopes to see us all again in Carnegie Hall.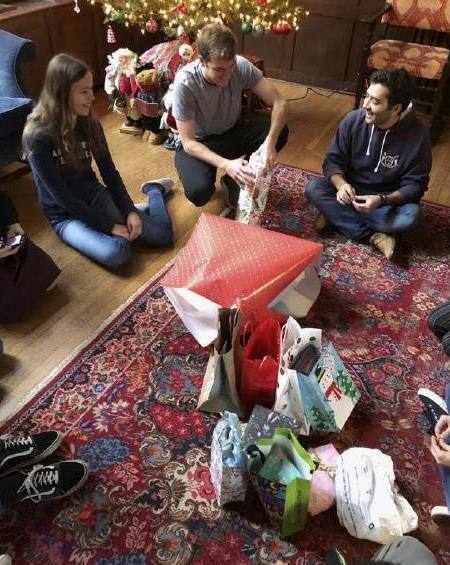 Finally, our White Elephant gift exchange. What are the rules to White Elephant you might be asking. Well, they are as follows:
Place wrapped gifts in center and have all participants circle around
Each participant is randomly assigned a number from 1 to however many participants there are
Number one goes first
Number one chooses a gift, unwraps it and holds it up for all to see
For each subsequent number/individual, either steal a gift or choose to open a new gift
If a gift is stolen, the participant can either steal from someone else or open a new gift
A gift can only be stolen 3 times, by the fourth owner, the gift is out of the game
Once everyone has a gift number one can steal from anyone if they choose
If number one chooses to steal they must place their open gift in the center. The player that was stolen from must either choose to take the gift in the middle or steal from another participant. This continues until either all of the gifts have been stolen 3 times or someone wants the gift in the middle
There was a lovely display of gifts. There were books, mugs, ornaments and chocolates galore. The gifts represented many different countries just as the participants do – for example there was both Swiss and Japanese candy. Multiple gifts got stolen the maximum amount of times, including a large, soft and fluffy Reindeer pillow, a book entitled "How to Become an American", and a gift bag with a gingerbread man ornament, chocolates and a puzzle book. All who participated had a blast!