If you are thinking of joining the ISH-DC community or just preparing for your arrival now, you are probably wondering what our neighborhood is like! As a resident at the house, I remember my first exploratory walks around the neighborhood very well. Based on these and a few great recoveries over the course of my now 8 months stay, here are some of our highlights:
Our house's immediate neighborhood is elegant and quiet, with many embassies and offices spread out around an otherwise residential area. As you leave ISH you can always meet neighbors walking their dogs or going for a run. Although it is quiet around the house, Connecticut avenue and the actual Dupont Circle are just a block away, featuring businesses from supermarkets to Cafés to bookstores. And not just any among those either!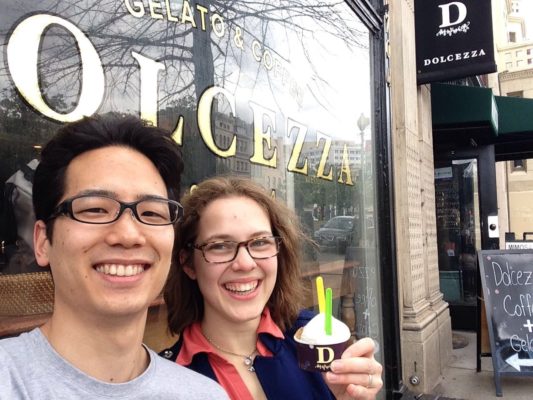 Kramer Books is one of the most popular bookstores in D.C. for very good reason. A 5 minute walk from ISH, this spacious bookstore is packed with books of all genres and gives you an excellent taste of what America is reading right now. From politics to economics to arts – everyone will find both the talk of the town and beloved classics here. Many residents, myself included, enjoy a Saturday afternoon rummaging through Kramer Book's shelves, discovering a multitude of books we have to read, commenting contemporary America or delving into core topics of our own research. This store is always worth the trip.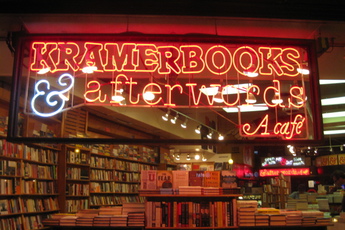 Right next to Kramer Books, on the corner of Connecticut Ave and Q Street is Firehook. A small, cozy bakery, with wooden floors and counters, offering cozy window seats, artisan bread, paninis, soup and smoothies, with great options for any time of day. This really is a cute bakery with the neighborhood atmosphere and nice staff you may long for in a big city. Connecticut Ave and Q, 2 minutes-walk from ISH.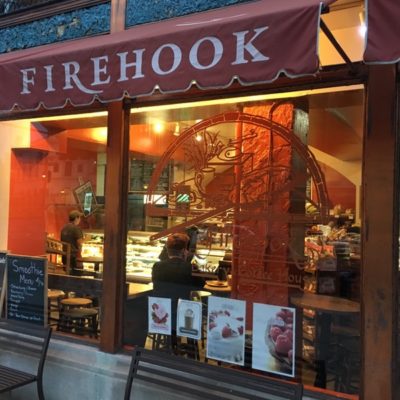 If you are looking for great coffee and excellent pastry at an unbeatable price, Un je ne sais quoi…. ! is the place to go. It has to come second here, because I found this absolute treasure only late in my stay and am now never getting real treats anywhere else! Petit Paris, as I would dub this place, is located on Connecticut Avenue, a 6-minute walk from ISH, past Kramer Books and just across the actual Dupont Circle.  The small, bright Patisserie française is run by a French couple (from what I could tell) and not only a wonderful opportunity to practice your French, but also truly the best place to get coffee, croissant, brioche and amazing French pastries. I have treated myself to a couple of visit now and was never disappointed. A quiet place to study, with a cozy corner sofa or great window seats, and also the best choice to pick up a croissant or coffee to go in the morning. Extra tip for birthdays or just that one special treat: their tarte au chocolat is magnifique!
Alternatively, sweet-tooths or gelato fans moving in around the summer: check out Dolcezza near the corner of Connecticut Ave and R Street- their artesian ice cream features flavours from coconut to lime-basil to salted caramel. It's a great welcome-treat to enjoy on your first summer night in D.C. – I'd know because a wonderful fellow resident took me there the night I first moved in.
These are three of the perks of Dupont Circle, but of course life is rarely all books and other treats. Let me give you some more practical tips:
Food: With breakfast and dinner provided at the House, most residents still go grocery shopping every week to stock up on snacks and lunches. For that, I have three recommendations: Close-by, on 17th street, is Safeway with a classic supermarket offering. A little bit further, about a 20-minute walk, on 14th Street, is Trader Joe's with less of a product range but a great quality-price ratio and many healthy snacks. Even fresher and more local is the Sunday's Freshfarm Farmer's Market that comes to the Dupont Circle area, spread along on the side of Connecticut Avenue between R street and the circle. I highly recommend a visit, with or without a grocery shopping list: Here you'll find the locals do their shopping, can taste a multitude of offerings from fruits to granola to cheese, bread, pizza and ice cream. The quality is good and prices are fair. Above all, you can support local farms and artisan products. From 8:30 am to 1:30 pm, enjoy a stroll along the market- including a local artist making music nearby!
Banks: For many Internationals the banking question is not easy to answer. Near ISH, you have Bank of America, PNC and SunTrust all in very close proximity. Conditions vary, but at least location-wise, these three are a good bet as their offices are all within a 5-minute walk from the house.
Other utilities: For any household utilities you may need, CVS is your best bet in the ISH-DC neighborhood. The store is located right at the corner of the Dupont Circle and offers anything from beauty and bathroom products, to stationary, cleaning supplies and medicine (it is also a pharmacy). For office supplies, Office Depot, up North on Connecticut Avenue is also a good bet.
Freetime and Fun around Dupont: The many other things you can do around Dupont merit a separate blogpost. Overall, Dupont is a lively neighborhood, with sports clubs, yoga studios, seasonal art markets, museums and restaurants around the corner.  If your favorite hobby is not found close-by, Georgetown and downtown are a 10-minute bus and 5-minute metro ride away, respectively. Not to mention D.C.'s lively U-Street Neighborhood, which is a 10-minute walk up North. In sum,
Dupont has a lot to offer- which is why some of its nicest places can easily go unnoticed. I recommend a walk around the block to find your favorite places, when you arrive. As always, there's always current residents to ask for good spots as well.