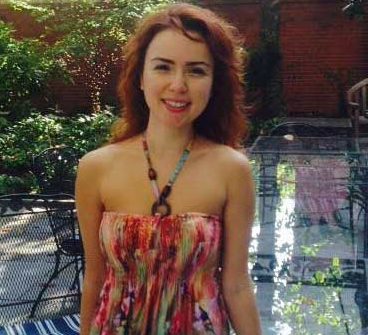 This is the story of how International Student House became International Student Home for me. It all started on a sunny July morning, one of those mornings your life changes greatly and you are so happy to wake up, like your wedding day or your graduation. For me, I was going to Turkey after a long time, to attend my best friend's wedding as maid of honor for a week, just to return back to the U.S. to start my new job in California. Everything in my life was going according to the great plan in my head; graduate, have a little vacation with my family and start my professional life in the U.S. I had no idea that in a few hours my life would turn upside down.
I remember how sad I was saying goodbye to my friends at the House, everyone helped me with my luggage. We cried, we hugged and I said goodbye to DC. I remember how excited I was waiting in the security line at Dulles Airport, as opposed to other frustrated passengers. I closed my phone to save some battery until the flight and started waiting. When boarding started, I opened my phone to talk to my parents briefly.
The minute I opened it, I received about 15 messages and calls from my mum and dad. 'DO NOT BOARD, CALL US IMMEDIATELY'. And did I. My mum was so anxious; 'Where are you!?' 'I am about to board mum, what is going on?' 'They have closed airports here, some soldiers also took over bridges and borders - that plane cannot land. They say it may be a terror attack. Do not board no matter what!' Little did she know that it was not a terror attack, but rather an attempted coup.
Meanwhile, everyone was boarded and I was the last passenger. I approached the counter with a shocked face. I said one of those movie lines 'Umm sorry but I cannot fly today!' The hostess looked at me worried and said 'What is the problem madam, why can't you fly?' 'Because, I cannot land! The airport I am aiming for has been taken over by soldiers!' The worried hostess picked up the phone, talked with someone in French for a couple of minutes, then returned to me and said 'You are right, it looks like Turkish airzone is closed as of now. Your luggage will be given back to you.'
I returned back to the departures lounge, waited for my luggage, and watched live on CNN our national assembly being bombed by airstrike with a couple of other important government places. I saw jet planes flying over Istanbul. I was scared for everyone I know back at home and had a hard time believing that all this was real. It all felt like a nightmare and my tears were running non-stop. I watched my country's fall on live TV, I was Tom Hanks from the movie Terminal.
My luggage arrived and I had nowhere to go. I already said goodbye to my friends at International Student House a couple of hours ago, however I called my roommate from the House. I needed help.
Gizem with fellow housemates celebrating her birthday, and Gizem with housemates at our annual Garden Party (2015)
We agreed that I should talk with Jen, the Resident Manager.  I believed my home for the last two years would not leave me alone in my darkest hour. So I dialed Jen and explained the situation. I could not even talk straight from crying at that point. She talked to me calmly and like the pro-problem solver that she always is. She said 'Get your luggage, come back home. You can stay as long as you need in this emergency'.
Without having a country to land at that moment, at least I was not homeless. A tiny bit of hope knowing that my parents were also safe in a smaller city, I grabbed my luggage and headed back downtown, which I had just arrived from with a big smile on my face and filled with hope only a couple of hours ago. Arriving back at International Student House, everyone welcomed me at the door, helped me resettle and gave me much needed emotional support. I was so grateful and love all of them.
Turkey did not have a coup that night. Lots of people died but soldiers who attempted to take over the government failed and the government restored the order a week later. Life turned back to normal at a shocking speed and I left the House a week later, as well, to visit. It was maybe still dangerous, but I needed to see and be with my family. The wedding was postponed to the next week and I could not go back to California for that new job, so I missed that opportunity, however, a better one came just a week later and I got a great offer from a Wall Street Capital Market firm in NYC and I moved to the International House in New York two weeks later.
Just like that, my entire life changed in a couple of hours. Thanks to International Student House and great people working there, I received help when I needed it most. That's what it means to have a family. That was the story of how International Student House became International Student Home to me.