It was a warm autumn night, one of those nights in DC that we just left behind. The weather was humble, clothes were not yet thicker and reflections of the sunset were on the leaves day and night. A strange cocktail of melancholy and happiness of the transitioning season was inside the overly discussed red cups of the Washingtonians. I was too excited since my tickets were bought, it was going to be my first ballet experience in the Kennedy center. We were about to take our Uber to 'The Suzanne Farrell Ballet', the John F. Kennedy Center for the Performing Arts' own ballet company in Washington, D.C.
The show was composed from three parts; Walpurgisnacht Ballet, which was going to be the company premiere (first meeting with the audience), hence I could guess the excitement of the dancers, like my own. The second was the Shakespeare's forever joy, 'A Midsummer Nights Dream – Pas De Deux'[1], and the third one was "Scene d'Amour from Romeo and Juliet"(oh la la!).
A small but sophisticated ballet company, The Suzanne Farrell Ballet, has given annual seasons at the Kennedy Center since 2001. Without going into too much detail, I want to mention about the style that was used in the show, that is the Balanchine Technique. Named after a Russian born American choreographer, the Balanchine technique is all about rhythm, minimalism and funny details. For example, at the second act of Walpurgisnacht Ballet, ballerinas came back to stage with their long, untied and wavy hair with multiple colors and wooed the audience after a typical first act.
A midsummer Nights Dream brings one back to childhood memories;  I personally adore Shakespeare's unbound imagination, which also fueled mine when I was five. Yet, a cocktail of Balanchine and Shakespeare was divine!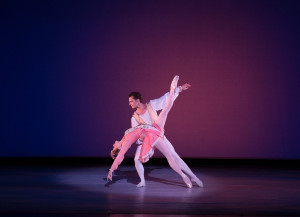 Hmm… There is a spot that you have missed at ceiling Jose!
After all that minimalism, the last act 'Scene d'Amour from Romeo and Juliet', the most well-known love story of all times, brought some color into our lives. It was one of Balanchine's three "Jewels" ballets; the story was in the color of 'Emerald'. According to an article in the New York Times, Suzanne Farrell and Kyra Nichols Carry On Balanchine's Spirit, "Emeralds were delivered with real nuance, sensitivity and freshness." According to your fellow resident, it was legen -wait for it- dary. Not only was the ballerina, Heather Ogden, in noticeable harmony with her partner, but the whole scene was recreated again with Emerald Ballerina's on the stage like a necklace from Buckingham Palace. From now on, Green is the new pink when it comes to love and romance.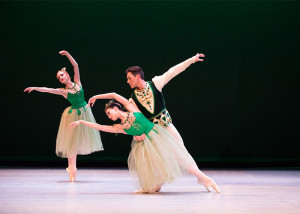 The air is getting colder, going outdoors on weekends is unfortunately not desirable anymore.  With the 'Special Price Tickets' for us students, the Kennedy Center is a must go-to indoor weekend activity. Not to mention it hosts an incredible collection of different ballets and concerts from all over the world – don't miss your chance to see this concrete jungle of art while you are in DC. Stay with art, love and passion everyone! Wishing you all a great December and early greetings of Christmas!
[1] Let's jump on a bit of ballet world, shall we? Pas de Deux means couple dance. Check this link for an awesome one.