On Thursday, December 19, Deputy Assistant Secretary of State for Academic Programs, Caroline Casagrande, visited International Student House of Washington, DC (ISH-DC) to meet resident scholars and alumni representing the 300 graduate students from 70 countries who reside at ISH while studying in Washington each year. Ms. Casagrande was joined by colleagues from the Bureau of Educational and Cultural Affairs, including Managing Director, Marianne Craven, and Branch Chief for EducationUSA, Brooke Spelman.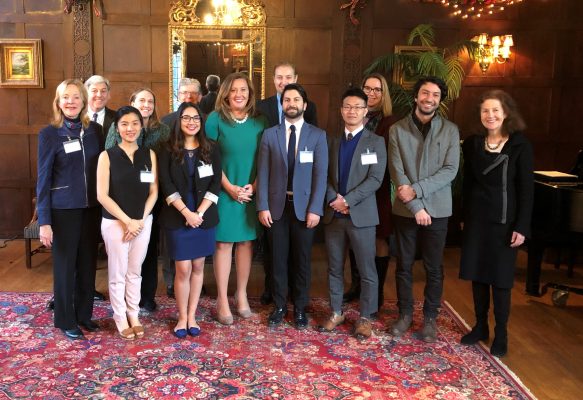 The group was welcomed by ISH Board President, Eric Melby, and Interim Executive Director, Larry Dunham, who outlined the history of 1825 R Street NW and how it became the International Student House in 1946.  Following a tour of the historic building, they were introduced to ISH residents from Egypt, Indonesia, Japan, Turkey and the United States, who are studying at Georgetown University, George Washington University, and American University. They were joined by two local alumni originally from China and Serbia, currently working at the International Monetary Fund (IMF) and the World Bank, and by ISH Board member Dr. Sherry Mueller, Distinguished Practitioner in Residence at the School of International Service, American University.
Ms. Casagrande shared her personal experiences studying abroad and the impact it had on her life. She went on to explain the many exchange opportunities now available to foreign students through the U.S. State Department. While discussing one such program, EducationUSA, our resident scholars were interested to learn that one of them had attended an EducationUSA program in Indonesia. Our residents and alumni also shared their experiences studying in Washington, DC and the impact that living at International Student House has had on them.
The afternoon was filled with engaging conversation, reaffirming the importance of inter-cultural exchange. Ms. Casagrande pointed out, at the State Department, "We are in the business of friendship building", which very much coincides with the mission of the International Student House.
We appreciate DAS Casagrande and her team visiting ISH to learn about our community and meet our exceptional resident scholars, who will soon be leaders around the world.  We look forward to continuing the dialogue with her and her colleagues at the State Department.