When I heard that it was a tradition at ISH that students would host Cultural Nights, I was determined I would do one for Australia. A more daunting challenge then you think, whilst Australian is a beautiful, diverse, multicultural country, it is difficult to celebrate one thing that makes Australia, well, Australia. We do not have a singular cultural dress or music or food. But that does not mean we do not have a culture to share with the rest of the world, and so, on 26 January I armed myself with a flag, some Vegemite and an inflatable kangaroo, and was ready to show my fellow house mates the best of Australia I could offer (or at least, the best I could find in Washington, DC).
Here's how it went down.
Food
As the traditional barbeque (a "sausage sizzle") would not make much sense in the middle of an American winter, I opted for an array of Australian snacks. With mostly sweets to be found at World Market, I let my house mates know that they could feast on chocolate-covered honeycomb bites, ANZAC biscuits, Darrell Lea liquorice and – most importantly – Tim Tams, if they humoured me and tried some Vegemite first.
I am delighted to say everyone rose to the challenge, and all who came to the cultural night tentatively smeared Vegemite on a cracker and nibbled at one end, unsure of whether they were going to like the famed spread or not. In the end, Vegemite received its usual mixed reception, but Tim Tams and Bundaberg Ginger Beer won the day.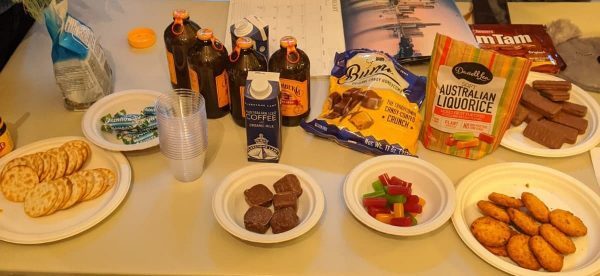 Australia treats to try
Music
Earlier in the week I had procrastinated from my assigned readings and curated a play list of Australian classics that would form the background music for my cultural event. The greatest part of this turned out to be the international knowledge of most songs, but not that they were in fact Australian artists. I am happy to confirm that John Farnham, Tones and I, 5 Seconds of Summer, the Veronicas and Keith Urban are indeed all Australian.
Slang
As a little bonus activity, I had a game ready for the residents, 'Guess the Australian Slang' with the promise of a small soft toy kangaroo as a prize to the person who guessed the meaning most slang terms. Many put in their best effort, and whilst terms of British origin such as 'bloke' (a man) were frequently guessed correctly, more abstract terms (cark it, fair dinkum, uey and yakka) left many scratching their heads. I'll leave you to take your best guesses!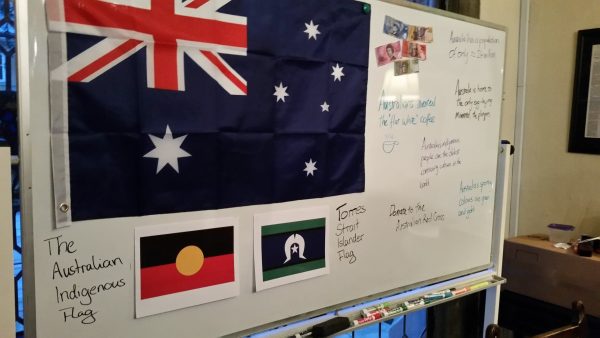 Imparting some facts and wisdom
Knowledge
Truly though, the greatest part of the cultural night was how open and willing my fellow house mates were to learn about my country, its history, politics, culture and the ongoing bush fire crisis. Residents asked me serious and thought-provoking questions and many asked if my family were safe from the fires.
It is moments like these that remind me what a treasured community ISH is.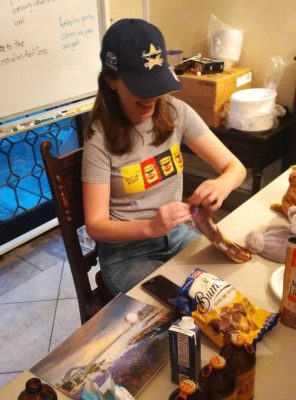 Just me, a happy little Vegemite tearing into a packet of Tim Tams