May in DC is filled with fantastic cultural opportunities. Passport DC is a month long event that highlights the international community of the city, and is hosted by Cultural Tourism DC, a non profit organization that strives to showcase the possibilities within DC. Some of the very best events that DC has to offer are part of Passport DC.
On Saturday the 11th, I along with other ISH residents attended the EU Open House. This event encompasses embassies opening their doors to the public and really putting on a show. There are giveaways, food and drinks, traditional costumes, music, dance, freebies, historical lectures, videos, and demonstrations of what it means to be from that country.   This is a must see for anyone with the opportunity to attend.
This event is marketed as a way to tour the EU. They even hand out passports and each embassy will give you a stamp. I visited quite a few embassies and got to speak with other residents about the different embassies that they visited and of course all of the EU residents about how they want their country to be seen and to show itself.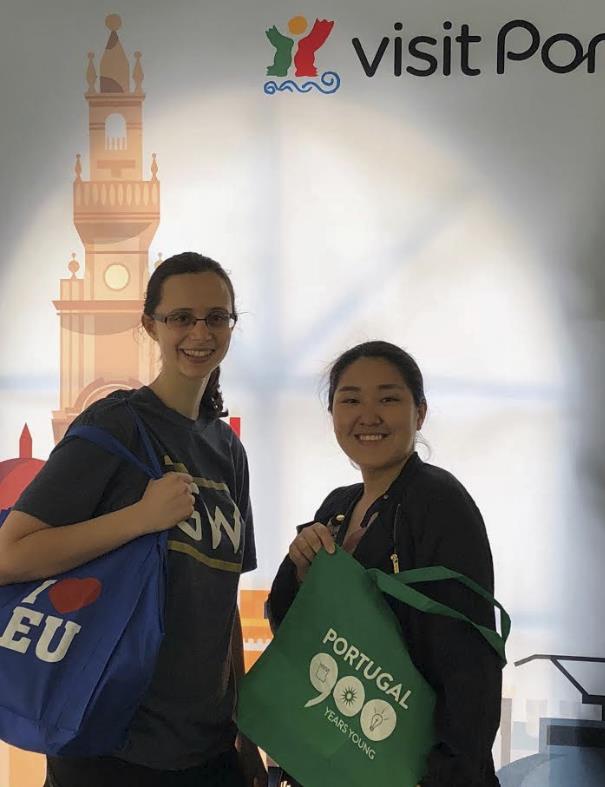 The EU embassy that is located nearest to ISH - DC is Portugal. This embassy had a long line, which was well worth the wait. The ambassador to Portugal personally welcomed every visitor at the front door. After the warm welcome, I got a passport stamp and spoke to a Portuguese furniture company that was handing out measuring tape and watched a video that highlighted tourism in Portugal. The embassy also had many different Portuguese businesses present. We spoke to consultant firms, fitness experts, vineyard owners and fragrance companies about their start in Portugal and their experience working in the USA. They also had both food and wine to try. We also got the lovely tote bags displayed in the photo, along with the chance to take photos in front of the fun Portuguese backdrops and even a chance to enter a raffle to win a flight to Lisbon.
Another Embassy with a long wait due to its popularity was Ireland. The Irish embassy had a full band and step dancers on their front lawn, as well as a rugby team (see picture). This embassy brought in members of the DC community that knew Irish step dancing to provide information as well as members that were involved with Gaelic sports. They also had a very informative guide for the embassy tour who provided information regarding the status of the house and the ambassador as well as how to bring parts of Irish culture to our everyday lives in DC.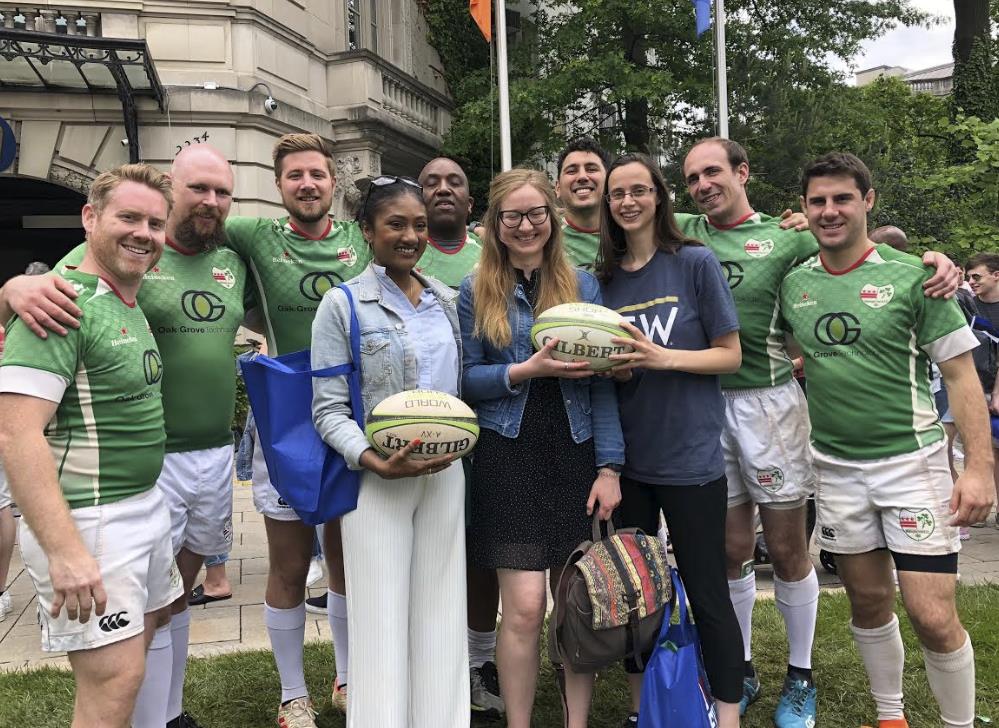 The Greek Embassy had a line that went down the block and wrapped around the corner. This embassy really showcased its culture and even had full crew outside the embassy to provide question & answers, information and photo opportunities. They had very colorful traditional dress. This really drew the eye of all who passed by. The food and drink that they had looked especially appetizing. Greece wasn't the only country to have members in full dress awaiting visitors in front of their doors. Croatia also had this and a full band. All of the guests leaving the Croatian embassy had smiles on their faces. Croatian wasn't the only embassy that accomplished this. Denmark really stood out from the crowd. They sent vikings to stand on the corner, hand out cookies and direct people to their open house.  Denmark wasn't the only embassy to grab visitors attention as they were walking down the block. Latvia had a huge sign so that nobody could miss them. You could tell from the outside that Latvia would explain its culture through literature and art.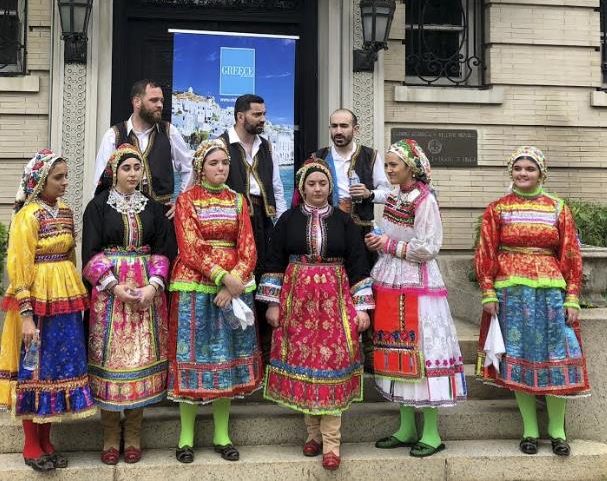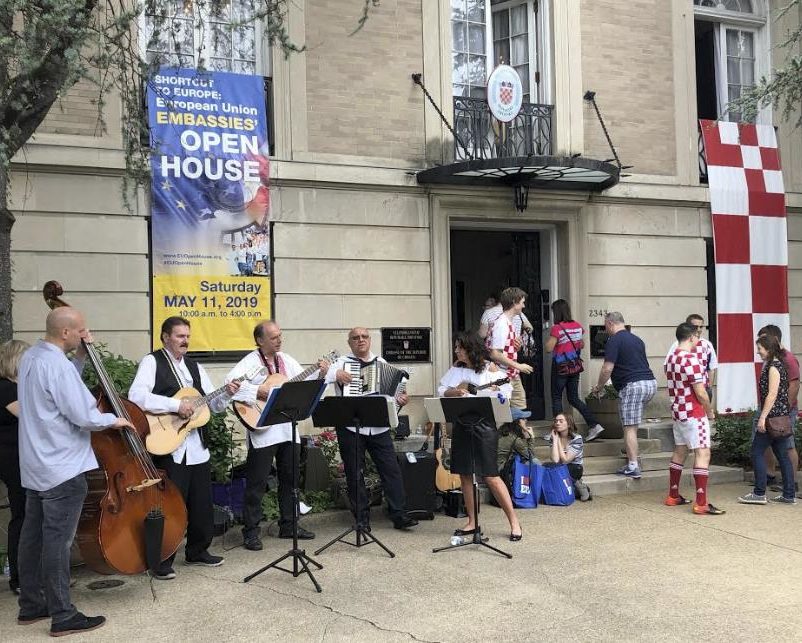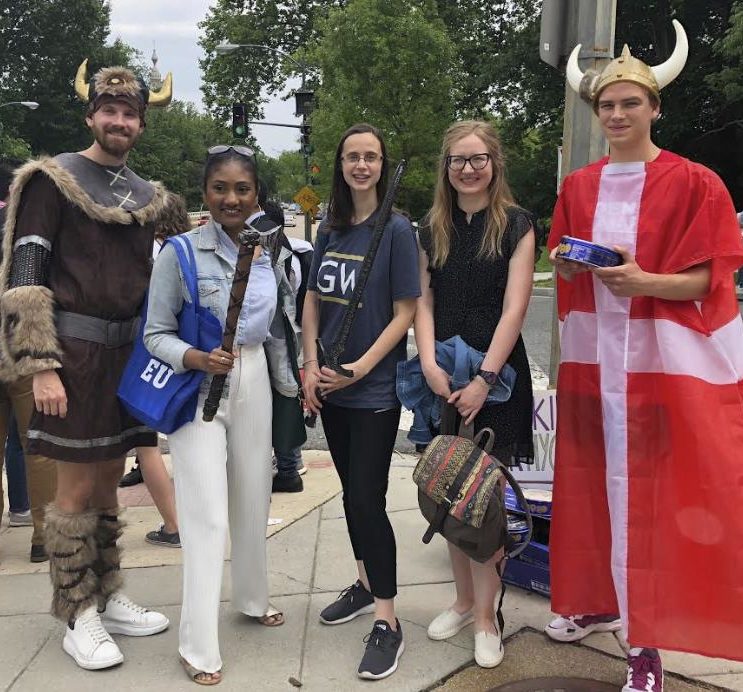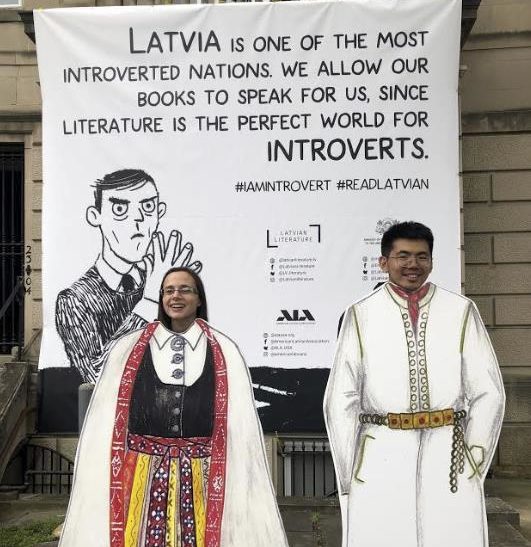 The Italian embassy also provided quite a bit to write home about. They had tons of booths. There was gelato, pizza, coffee, quizzes, scavenger hunts, soccer, ducattis, a military history exhibit and even a cut out of the coliseum.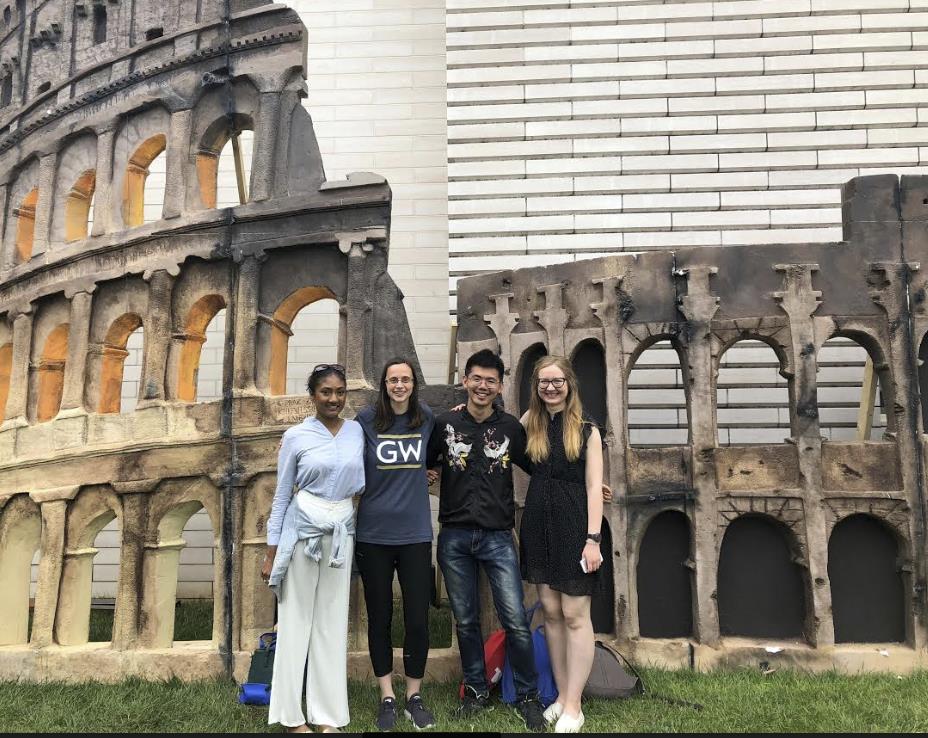 All of these embassies were very exciting to visit. My favorite memories of this day was from visiting embassies of countries that I have been to. As the embassy visit brought back the memories of the trip, I found myself reminiscing fondly of my previous experience in that country. The custard tart at the Portuguese Embassy reminded me of my trip to Lisbon and viewing the beautiful mosaic tile sidewalks, and climbing the Belem Tower. Catching a Rugby ball at the Irish embassy reminded me of walking along the cliffs of Moher and enjoying the amazing natural landscape that the Irish coast has.  I hope to visit the countries from the other embassies that I had the chance to see. Maybe, when I do I will be reminded of the EU open house and the amazing friends that I have made at ISH.
For more information and to see the other opportunities from Cultural Tourism DC that showcase what DC has to offer. Please visit https://www.culturaltourismdc.org/portal/passport-dc1.