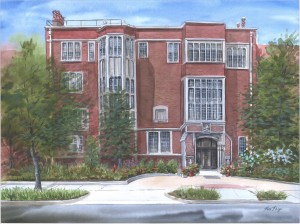 International Student House
Global Leadership Awards Dinner
October 24, 2013, 6:30pm
         Dinner Co-Chairs:  Lilibet Hagel & Betty Ann Tanner
Diplomatic Chairs:  The Ambassador of Turkey and Mrs. Namik Tan
ISH Global Leadership Honoree:  Ambassador William J. Burns, Deputy Secretary of State
ISH Lifetime Service Honoree:  Dr. Sherry Migdail
The Fifth Annual International Student House (ISH) Benefit will be held on Thursday, October 24, at ISH's historic facilities located at 1825 R Street, NW.  Proceeds from the event will allow ISH to continue its mission of providing an exceptional residential experience while promoting peace and understanding.
This year, ISH will honor Ambassador William J. Burns, Deputy Secretary of State, with our Global Leadership Award for his lifetime work and achievements in promoting intercultural dialogue, international education and peaceful global citizenship.  Past honorees have included Secretary of Defense Chuck Hagel; Dr. Peter Krogh, former Dean of Georgetown University's School of Foreign Service; and Gilbert Grosvenor, Chairman Emeritus of the National Geographic Society.  Secretary Hagel will present this year's award to Ambassador Burns at the event.
ISH's Lifetime Service Award will be presented to Dr. Sherry Migdail for her longtime devotion to the organization.  Dr. Migdail has been a Board member for many years.