International Student House of Washington, DC (ISH-DC) resident scholars and alumni from around the world had an incredible evening hosted by His Excellency Kurt Jaeger, the Ambassador of the Principality of Liechtenstein. Ambassador Jaeger, along with his wife, Laurette, graciously welcomed us to their residence in mid-June for a summer "Happy Hour" to enjoy wonderful conversation and learn about Ambassador Jaeger's work representing his country here in Washington.  Our resident scholars also learned many new facts about the incredible country of Liechtenstein as they spent the evening conversing with Ambassador and Mrs. Jaeger, as well at representatives from the Embassy.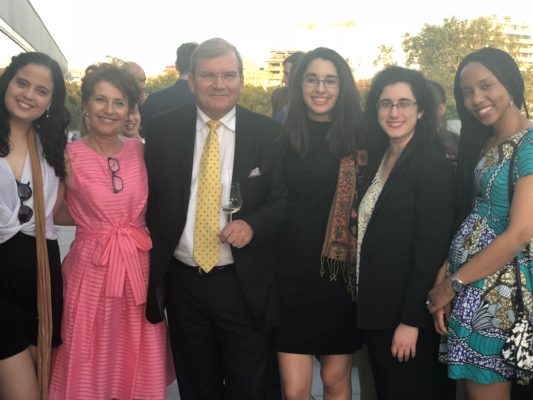 International Student House actively promotes inter-cultural dialogue and building an international community, therefore we highly encourage our resident scholars to engage in the exciting networking opportunities that are often uniquely found in Washington.  We are immensely grateful to Ambassador Jaeger and the Embassy for such a kind welcome and giving our residents a perfect opportunity to engage in substantive conversation.  Not only were they able to hone their networking skills, but they also learned from the Ambassador's expertise in both the public and private sectors.
What a wonderful evening to remember!