On Thursday May 14 we welcomed more than 200 guests including foreign Ambassadors, Members of Congress, alumni, and supporters to the House for our Annual Garden Party.  The event celebrated not only our refurbished garden but also the life-long connections our alumni, residents, and friends have created with each other and the House.
Residents had the opportunity to meet and talk about current issues and career paths with Members of Congress – an invaluable experience given that many residents are planning careers in public service.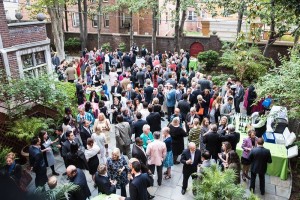 We were pleased to welcome Ambassadors and embassy staffs to the Garden Party from more than 20 countries.  Embassies learned about the House and how we provide a home away from home for their students.    Many of the diplomats in attendance indicated that they plan to encourage students from their countries to consider living at ISH-DC.  We hope to see even more alumni and guests at next year's Garden Party.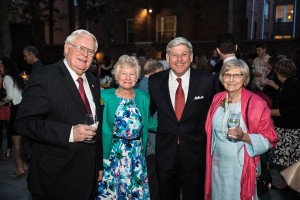 Congressman Joe Pitts and Mrs. Ginny Pitts with ISH-DC Board Member Larry Dunham and Mrs. Deborah Dunham.