Mrinalini Jasani Vogeler, ISH resident in 1956, currently lives in Bielefeld, Germany. Ila Jasani Good called ISH home from 1960-62. She currently lives in Virginia.
In her senior year of college, Mrinalini Jasani left Calcutta (now Kolkata), India and traveled to Allentown, PA to attend Cedar Crest College. She stayed with family friends. The times and the people blessed her with the quintessential American experience. The small town offered a door into the real America, a complete immersion.  "You must have the experience of a family and a home" insisted her host family.
After graduating from Cedar Crest, Mrinalini was admitted to George Washington University for a one-year program in government and international relations, and was also enrolled in Institute of Languages at Georgetown for a semester. Her "so American" experience morphed into an international life when she found herself residing at the International Student House.  "So many nationalities under one roof – it was like the United Nations! We didn't have problems living together because we had so much in common. We shared everything – we became like one. If we had visited each other in our own countries, we might have noticed differences, but at ISH, we were one."
"There was no turning back once I entered the international arena," adds Mrinalini. After her GWU program, she moved on to a job with the Indian Embassy. She spent a total of four years in Washington, DC.  Her extended stay was unusual in that most ISH residents returned to their countries upon completing their studies.
Despite being so far from India, Mrinalini (who became known as "Minnie" by Americans) explains, ISH became home because all of the residents were in the same situation – without family. "Together, we no longer felt isolated. ISH was secure and comforting. We became one big family." She recalled that Mr. and Mrs. Baker, the director and his wife, were ever-caring and always available. The door was open – literally – no one even had to ring the doorbell.
The residents were also united by their financial realities. "We didn't have much money so all meals were eaten at the House." Although the choices were not very exciting, "we wouldn't skip a meal!" When they did venture out, it was to the modest Crystal City Restaurant around the corner. At I. House, as it was known in the 50's, the Friday night dances were the highlight of the week. "The lights came on for the dance" and altered the ambience of the dark, wooden paneling. "We didn't know any other night life. The weekly dance event was an integral part of the House activity. We all remember it vividly."
The House rules remain vivid: curfew, no drinking, no men allowed in the women's rooms. "We women were empowered and yet respectful of authority. And we never complained."
Society ladies invited them to their homes. "We were considered exotic birds." An Admiral and his family invited Mrinalini to Martha's Vineyard for a vacation, and hosted her and her friends on weekends in their DC home. Other families asked Minnie and I. House residents to housesit when they went on holiday.
Thinking back, Mrinalini has a strong memory of the residents sitting on the iron staircase in the garden when a group photo was taken.  "Is it still there?" she asks. She mentally walks through the House and settles in the informal reception area through the front door where everyone hung out. The staff was always there and residents could stop by and ask where anyone was.  Like family.
Seventeen years after leaving DC, Mrinalini made her first of a few trips back to the city and visited ISH.  It was heartening to return and to be reminded of the wonderful life and people. Mrinalini has kept in touch with many of her fellow alumni.  Several of them got together for a reunion in Amsterdam some years ago, and in Paris a year ago when Alice Katcher organized another reunion with Minnie and Johann, another ISH resident, and Aline Sederholm who never lived in I. House but was a frequent visitor.  "We met in Alice's apartment and ate and drank and chatted. We never even left the apartment – we just wanted to make the most of being together again."
In addition, Mrinalini credits annual holiday letter from Anne Moore (whose now deceased husband Tom was the ISH director during Mrinalini's time), with keeping her up-to-date with alumni news. Who needs Facebook?
As Mrinalini's sister, Ila, listens to her emotionally-charged reminiscing, she says: "Listening to my sister brought it back to life for me."
Ila Jasani became acquainted with the House thanks to her sister, Mrinalini. As an undergraduate at Smith College, Ila visited her sister and hung out with her friends at I. House.
Smith was a very different experience than Georgetown University, where Ila attended graduate school – ". . . all girls, elitish and largely white. Coming to ISH exposed me to other types of people." Unlike most residents, Ila stayed at the House for two years – the majority stayed only one year.
"In those days, ISH served as a nucleus for foreign students to hang out, a magnet. Being a foreign student was a very special thing then. People welcomed you and noticed you. They could not have been nicer. We were exotic, especially being female from India. The Friday night dances were very popular; students who were not residents but who studied at the surrounding schools also came. ISH was very accessible, a place to drop-in, feel at home, sort of a lonely hearts place. We could invite outsiders for Sunday dinners. People begged to be invited."
"Coming to the U.S. when a young, dynamic president had just been voted into office in 1961 gave us a sense of hope. Most of us at ISH were studying international relations or political science and we felt that we were part of something big and exciting. In addition to meeting JFK (see attached photo), we also met Supreme Court judges and senior statesmen – it was a special collection of experiences. ISH was the key to opening the door."
"I had no intention of staying in the U.S. and then, 10 years after returning to India, I met my future husband who was American and assigned to the US Consulate in my home city, Calcutta."
"The exposure to different cultures at ISH prepared me for the international life I led. I am grateful for that, for making my transition to other countries easier." (Ila's husband, David Good, is a retired foreign service officers, and the two spent over 20 years together in the Middle East and India.)
Echoing her sister's memory, Ila adds, "The residents at ISH became our family because we came to Washington with no community. The other foreign students were our family. In five years in the U.S., I did not call home once – we wrote letters."
"The society ladies in DC were very involved in wanting to do something for foreign students. Their hospitality was very generous. We got invited to their homes frequently. It gave us a heady feeling to be courted and entertained in elegant Georgetown homes. We also went to Constitution Hall, which was the premier venue in those days, for concerts. When the U.S. President was not attending, we were occasionally invited to sit in the Presidential Box."
"I remember standing next to Dean Rusk and Van Cliburn at a State Department reception honoring Van Cliburn after he won the Tchaikovsky Piano Competition in Moscow, the first American to do so."
The conversation moves from hobnobbing with VIPs to the more mundane daily life at ISH.
"I was the only vegetarian so the meals at ISH were an interesting experience [Ila is Jain.]. I mostly ate boiled potatoes, grilled cheese sandwiches and omelets. Ethnic food and vegetarian food weren't common then. The kitchen staff was very nice and they went out of their way to make me feel comfortable and cook for me. I remember Mabel and Frank in particular."
In Ila's second year at the House, she became president of the events committee. At that time, students organized everything. (She says they weren't aware of the board members.) In her role, Ila was able to bring an esteemed curator of Asian Art and pianists to ISH. The holidays were a highlight as the House was especially festive at Christmas. "We sang carols in our native language. It helped everyone who was homesick."
The other ritual was the afternoon tea which was well-attended (graduate classes were at night). Neighbors dropped in and ISH staff and residents actively reached out to the neighborhood.
"It was a very special time in our lives. We are delighted to relive our memories."
Photo in oval office with JFK: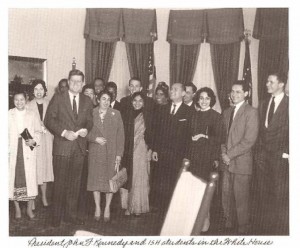 Front row – left to right: a Laotian student, Anne, an American, President Kennedy, Nabila Dajani from Jordan, Ila Jasani from India, Mahmoud from Egypt, Colette Rosario from France, Juan Molina from Honduras (taught Spanish at the Foreign Service Institute in Rosslyn, VA), David Ransom (now deceased, went on to become US Ambassador to Bahrain)
Back row – right to left: Elizabeth from Liberia (went on to work at the UN), Paul Dempsey from Ireland (later became Irish Ambassador to India), a French Guinean national, and a student from Ethiopia barely visible.