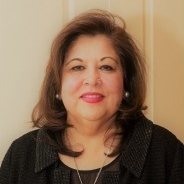 Shaista Mahmood has been a leading figure in Washington's philanthropic, diplomatic, ecumenical and political circles for over twenty years. She has opened her home and devoted her considerable talents to encourage bipartisan bridge building among cultures and faiths and support for global efforts to promote the empowerment of women and girls.
Shaista, a university graduate from Pakistan, came to the Washington area in 1976 and, with her husband Ray, has raised her four children here. Over the years, she expanded her circle of philanthropy, supporting numerous charities in her native Pakistan and in her community in the Alexandria/Mt. Vernon area.
In response to 9/11, Shaista and Ray were moved to promote a better understanding of their Muslim faith. Building on the Iftar dinners they hosted at their home for several years, they initiated an interfaith dialogue to bring together prominent US government officials with faith community leaders to encourage understanding and tolerance. This fruitful dialogue has continued and expanded over the past 15 years with the active participation of various White House officials, leading diplomats and Shaista's commitment to ecumenical understanding brought her together with Congressional spouses and wives of the Muslim ambassadors for a series of gatherings. This bridge building dialogue with participation from across the political spectrum continues to foster friendship and understanding.
Along with her husband Ray, Shaista serves on the International Advisory Board of the U.S. Institute for Peace. She serves on the boards of the Women's Foreign Policy Group, the World Affairs Council of Washington, DC and the International Center for Religion and Diplomacy. She was instrumental in advocating for the creation of the US Pakistan Women's Council launched at the United Nations in 2012 and serves as an Honorary Friend of the Council. Shaista has hosted significant fundraising events for Save the Children and Seeds of Peace. She and Ray have been long-time supporters of SOS Children's Villages in Pakistan and the Aschiana Foundation in Afghanistan. They have now adopted a school for girls in Islamabad, Pakistan.