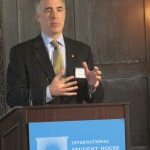 On Thursday, May 1, International Student House of Washington, DC (ISH-DC) presented a full-day symposium, Breaking the Silence: Addressing Sexual Assault on Campus.  As an organization dedicated to international understanding and dialogue, as well as the protection and well-being of its resident scholars, ISH-DC felt compelled to join the growing number of forces shedding light on the issue of Sexual Assault on College Campuses across the nation.  According to featured speaker Major General Jeffrey Snow, "Frontline leaders are critical to leading the culture change necessary to prevent sexist behaviors, sexual harassment and assault, and in establishing an environment of dignity, respect, and trust.  The DoD aspires to be a national leader in combatting sexual assaults while continuing to prevent and respond to this terrible crime."  Other distinguished speakers included Senator Robert P. Casey (D-PA); White House Advisor on Violence Against Women, Lynn Rosenthal; and Assistant Chief Peter Newsham from the DC Metropolitan Police Department's Investigative Bureau; and others from the worlds of academia, advocacy, prevention and response.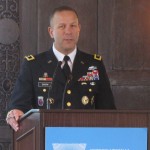 As noted by Sharyn J. Potter, PhD, MPH, Co-Director,University  of New Hampshire's research center:  Prevention Innovations: Research and Practices for Ending Violence Against Women,"It was an honor to be part of a symposium with policy makers, advocates and educators who are bringing national attention and action to a detrimental and ongoing problem that impacts over 20% of our daughters (nieces, cousins, friends) who attend college or university in the United States.  The symposium provided a unique experience to discuss issues that facilitate and constrain our work and to share solutions to address these constrains."  Dr. Potter presented her 25 years of research and development of Social Marketing Campaigns on campuses to empower students to speak out and against acts of sexual violence.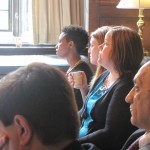 A wide range of topics were covered including current legislation, research, advocacy, prevention and response, victim's rights and support initiatives.  DC Metropolitan Police Department's Assistant Chief Peter Newsham focused on his unit's sexual assault procedures and improvements the Department is taking to ensure victims receive the treatment and justice they deserve.  Dana Bolger and Laura Dunn, both survivors and activists, spoke passionately about their experiences and how their treatment by university administrators led them to establish their own organizations. Daniel Rappaport, Sexual Assault Prevention Coordinator at The Wellness Center at American University, discussed his role as a victim advocate and confidential resource on campus for students, staff and faculty.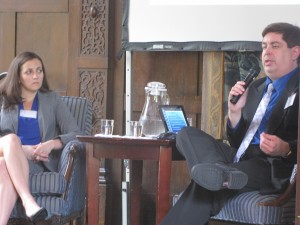 ISH-DC is heartened that widespread attention is finally being paid to this issue and remains committed to providing opportunities for further discussion and debate.  To this end, ISH-DC has plans to form an ISH-DC Task Force on Critical Issues on Campus and will continue a series of programs that address this topic.  Kristen Lombardi, Staff Writer from the Center of Public Integrity, who has written an award-winning campus assault investigative series, will speak at ISH in the fall.  Other participants will include those leading efforts to prevent assaults and change the current cultural climate on American college campuses.